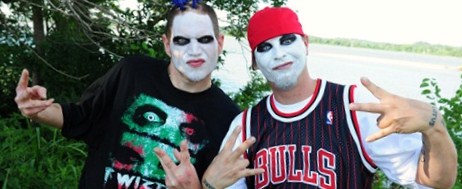 Krizz Kaliko's Kickin' And Screamin' is due out on 5/15/12 and it appears as though the emcee is giving fans plenty of surprises with his latest full length.
Following confirmation that he would be working with UFC's Scott Jorgensen on a brand new video concept, Krizz Kaliko jumped on Twitter to reveal a last minute addition to the record. Throwing in another treat for listeners, Krizz Kaliko confirmed that he would have Psychopathic Records' Twiztid on Kickin' And Screamin'. The Detroit, MI duo is already confirmed to appear on Prozak's Paranormal and now they will make their way to Kaliko's project. The new collaboration will be one of many to hit wax as Twiztid and Krizz Kaliko have previously worked together on tracks like "Peek-A-Boo" and "Bury 'Em All".
As Krizz Kaliko prepares to drop his "best CD so far", he will also be joining Tech N9ne's "Hostile Takeover 2012" Tour this summer. Fans are about to see much more of the genius in 2012!
Follow Krizz Kaliko on Twitter: @KrizzKaliko
What do you think about Twiztid appearing on Kickin' And Screamin'?
What do you expect from Krizz Kaliko's new album?
Let us know in the comments section below!