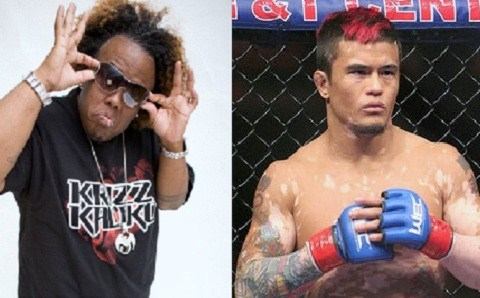 With his latest solo album, Kickin' And Screamin', scheduled to drop on 5/15/12, Krizz Kaliko is busy preparing to give fans plenty of material in conjunction with the release. Looking to put together a new video, the emcee recently found an unlikely connection in the world of mixed martial arts.
Having been diagnosed with the skin disorder Vitiligo at an early age, Krizz Kaliko has long taken pride in his success despite the condition, even naming his debut album Vitiligo. Updating fans on Twitter, Krizz Kaliko used the social site to share his vision for a brand new music video that would include people from all over the country who are also affected by Vitiligo. The idea motivated Krizz Kaliko to reach out to UFC's Scott Jorgensen. Scott Jorgensen, another famous individual with Vitiligo, has been competing professionally since 2006 and is considered one of the best bantamweight fighters in the world.
Following Krizz Kaliko's initial approach, Scott Jorgensen later revealed on Twitter that the two had spoken and agreed to work together. Expressing his excitement, it looks as though Scott Jorgensen is fully on board with Krizz Kaliko's idea. Be sure to stay tuned for more on the music video and don't forget to catch Krizz Kaliko live on the "Hostile Takeover 2012" Tour!
Follow Krizz Kaliko on Twitter: @KrizzKaliko
What do you think about Krizz Kaliko's video idea?
Are you excited to see him work with Scott Jorgensen?
Let us know in the comments section below!