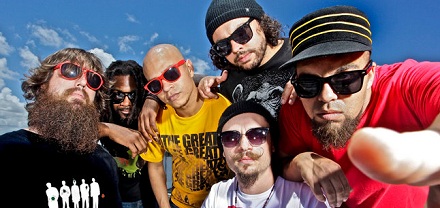 Just over a week after the release of the official "Death March" music video, ¡MAYDAY! has surprised fans with news of a remix.
Strange Music's sinister duo, CES Cru, first dropped news of a "Death March" remix on Twitter. ¡MAYDAY!'s Plex Luthor later confirmed the collaboration as well, adding that it was "hopefully the first of many." The remix will in fact be the first between the two crews, but with ¡MAYDAY! planning to give fans more music on the road to Take Me To Your Leader, there is no telling what else the innovative band has in store for listeners.
Stay tuned for more updates on ¡MAYDAY!'s "Death March" remix!
Click here to pre-order Take Me To Your Leader.
Follow ¡MAYDAY! and CES Cru on Twitter: @MAYDAYMUSIC & @CESCru
How do you feel about ¡MAYDAY! and CES Cru collaborating?

What other remixes would you like to hear?
Let us know in the comments section below!