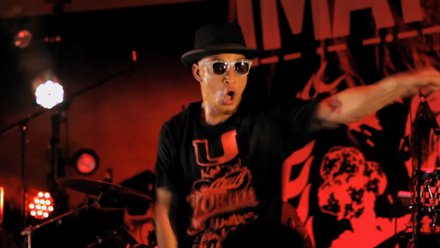 For those of you lucky enough to see ¡MAYDAY!'s set during the All 6's and 7's Tour, you probably remember being blown away by the unexpected explosion of energy and style that started off the show.
¡MAYDAY! will be bringing on a new set for the Hostile Takeover 2012 Tour and will once again take the tour beyond the boundaries of a hip hop tour and into the realms of a complete musical experience.
Like Travis O'Guin said, "You were either outside smoking or brain dead if you saw them and didn't think they were dope!"
Peep game with some of these examples…
Live at Transit Lounge: At this homecoming show during the All 6's and 7's Tour, Wrekonize wrecks shop with his freestyle to the beat of "Look At Me Now" and truly shows his capabilities as one of the most elite emcees to grip a mic.
All 6's and 7's Tour Diary: A philosophical and voyeuristic ride with ¡MAYDAY! on their first tour with The King of Darkness.
"Last Resort" Live: Go back in time to the days of smaller venues packed with sweaty patrons that came to jump, dance and rock out.
Click here to get your VIP Packages for the Hostile Takeover 2012 Tour!
Click here to pre-order Take Me To Your Leader.
Have you seen ¡MAYDAY! live?
What do you think of their performances?
Let us know in the comments section below!