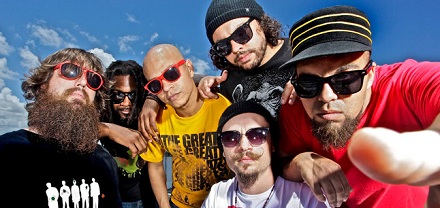 ¡MAYDAY! is giving fans fair warning because once Take Me To Your Leader arrives on 3/26/12, there is no turning back.
After several updates and an official trailer, the group took to Facebook and Twitter to reveal that they had received the final masters of the completed album. Dropping a bit of news on Facebook, ¡MAYDAY! shared in the excitement:
"just got the masters back for ¡TAKE ME TO YOUR LEADER! Turn the lights off, get your headphones and/or vices and rock this one!"
Wrekonize also jumped on Twitter to confirm the final masters were done. With the recent news of Pharoahe Monch and Black Thought of The Roots possibly appearing on the album, it looks like fans have a lot to expect from Take Me To Your Leader. Just what will Take Me To Your Leader sound like? Find out when ¡MAYDAY!'s Strange Music debut drops on 3/26/12!
Follow ¡MAYDAY! on Twitter: @MAYDAYMUSIC
What do you think about all the recent news on Take Me To Your Leader?

Will you be purchasing the album on 3/26/12?
Let us know in the comments below!