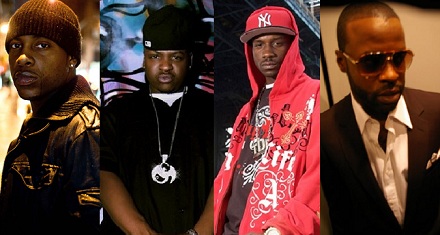 Less than 24 hours after the official Take Me To Your Leader pre-order became available, ¡MAYDAY! hit fans with news of one of the biggest collaborations to ever happen on Strange Music.
Assembling a team of elite emcees, the Miami group has given a new meaning to the term "posse cut". Joining forces with their Strange Music labelmates Stevie Stone and Jay Rock, ¡MAYDAY! also brought in Flint, Michigan native Jon Connor and Black Thought of The Roots. Readers might recall that we first broke news of a collaboration with Black Thought earlier this month. Team Stone's own DJ P-Caso apparently also jumped on the all-star track. Putting together the massive hit, ¡MAYDAY! dropped the news on Facebook and Twitter, much to the surprise of fans everywhere.
The collaboration is one of the most unexpected to come out of Strange Music and hip hop heads are sure to eat this one up. Stay tuned for more from ¡MAYDAY!
¡MAYDAY! announcement on Facebook:
"¡MAYDAY! featuring Stevie Stone, Jay Rock, Jon Connor and Black Thought… Done. This right here is gonna make you wanna do somethin reckless."
Follow ¡MAYDAY! on Twitter: @MAYDAYMUSIC
What do you think about the big collaboration?

Are you a fan of Jon Connor or Black Thought?
Let us know in the comments section below!