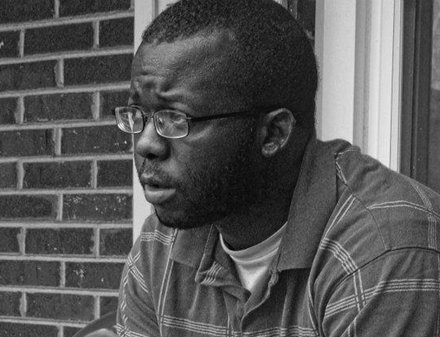 David Sanders II is a name that you should know. He is a part of your life and you may not even know it. His music has been accompanying the vocals of Tech N9ne, Big Krizz Kaliko, Skatterman, Snug Brim and more artists on Strange Music since Misery Loves Kompany. With tracks on All 6's and 7's and Welcome to Strangeland, David Sanders II shows no sign of slowing down.
Make sure you tune into our LIVE INTERVIEW with David Sanders on Monday, February 20, 2012.
Remind us of some of your work with Strange?
On Tech N9ne's Misery Loves Kompany I produced "Gangsta Shap","Sex Out South", and "The P.A.S.E.O." On Krizz Kaliko's Vitiligo I did "Anxiety", and "Rewind". I did "Hard Core" on Kaliko's Shock Treatment. Skatterman & Snug Brim's Word On Tha Streets: "Get Back", "Foolz", and "Ups And Downs". And for Tech N9ne: "Let's Go", and "I Love You But Fuck You" from Killer; "Mama Nem" from All 6's and 7's and a couple more.
Where are you from and currently live?
Born in Havre de Grace, Maryland. September 8th 1984. I was an army brat so we traveled a lot in my youth but out of all places I've lived, I would say I was raised in Huntsville, Alabama since it's the place where I have lived the longest. It's where I live today and damn near all I know.
Give us a brief look at your musical history.
I don't have the best musical background but I've always been a fan of music, not in the creative sense, since the very beginning. When I was growing up I took a liking to a variety of music. I was really into 80s music, as I still am today. I would listen to Phil Collins, Michael Jackson, The Police, Rick James, the Cars, Yes, Billy Ocean–the list goes on and on. The crazy thing about back then was I didn't listen to hip hop until the ass end of the early 90s. Never was trained in an instrument, but did take lessons about 2 years ago for college credit. With that I did learn a few things. I'm sure people can tell the difference between tracks I made in 2007 to now.
What made you get into making beats?
Well, I started making beats in 1997. What made me want to make beats was the Mortal Kombat Movie. One day I saw a commercial for this music software called "Magix Music Maker." It featured a beat similar to the ones I heard on the movie so I went and bought it.
Can you briefly explain the process?
I usually would start either with a lead instrument or rhythm, whatever gives me an idea first. Then I'll keep adding sounds until it sounds the way I want it to sound. I usually do drums last unless there is a beat style I'm trying to make. I try to avoid being in a box. Laying down the drums first would do that to you, in my opinion.
What is the most important piece of equipment in the studio?
At one time it was my MPc 200 but I don't use it anymore. Now I would say my external hard drives, because without it my beats and sounds would be gone. That wouldn't be cool.
Do you think of artist first? Or does finished beat lead towards someone?
I just go with how I am feeling most of the time. In some situations I do think of an artist and make something pertaining to how that person would rap on it. I'm not always there to suggest input so I try my best to make them get on a beat that calls for a certain subject matter without telling them. This works the majority of time.
When you are done with a beat, what do you do with it next?
I do the most important thing a person can do who creates intellectual property. Get it copywritten. Then of course after that I shop for a buyer.
Do you remember your first beat used by an artist?
No clue. It was in my hobby stage and I am sure that it wasn't too special. But you got to start somewhere. All I know it was someone local in my city.
What was the first beat you sold?
I don't know in general but as far as Strange Music goes, the first beat sold to them was one I named "Gorilla" after I made it. It's now a composition called "Twerk" by Tech N9ne featuring Krizz Kaliko, Skatterman & Snug Brim. It was on the Strictly Strange Tour CD. It wasn't the first one published but it was the first sold to Strange Music.
How did you first connect with Strange Music?
In 2006, a few months before Tech dropped Everready, I sent them and email basically telling them that I am an up and coming producer who would like to submit tracks to Tech N9ne for consideration. They gave me an address, and I slapped some beats on a CD then sent it to them. I think it was 2 months later when they called me, chose some beats and asked to hear more. I've been working with them every since.
Any projects you are working on now, that you are able to discuss?
Well Strange Music just wrapped up Welcome to Strangeland; I got two records on that album. I am working on more tracks for Krizz and Stevie stone for their upcoming projects. I just connected with Irv da Phenom so we might make something happen as well. I'm also working on my own stable of artists: Lola Bleu, Zo, and Mich Blak. Their records will drop sometime next year as well.
How does someone contact you for beats?
Hit the email dsanders2nd@gmail.com
Subject: Music Production and please be serious.
If you haven't already, pick up Welcome to Strangeland to hear the latest tracks from Tech N9ne and the Strange Music Roster. And to hear more beats by David Sanders II. Thank you for your time and your work that you have and will do for Strange Music.
DAVID SANDERS DISCOGRAPHY
Zo – Its Ova (2005)
"Intro"
"A Lifetime"
"It's Obvious"
"We Right Here"
"Bring It Back"
"Pipes Out"
"If You Want It"
"Time With You"
"Who I Be"
"Get It Poppin"
"God Is My Witness"
"We Don't Give A…"
"I'ma Be Me"
"That's Me"
"Outro"
Tech N9ne Collabos – Misery Loves Kompany (2007)
"That Box"
"Gangsta Shap"
"I Can Feel It"
"Girl Crazy"
"Sex Out South"
"The P.A.S.E.O"
"Message to the Black Man"
Krizz Kaliko – Vitiligo (2008)
"Anxiety"
"Rewind"
Tech N9ne – Killer (2008)
"I Love You But Fuck You"
"Drill Team"
"Let's Go"
"Beat You Up"
Skatterman & Snug Brim – Word On Tha Streets (2008)
"Hold Me Down"
"Get Back"
"Run The Streets"
"Foolz"
"Ups and Downs"
"Heartbreaker"
Tony Capone Presents The Untouchables (2009)
"Punch Drunk"
"All Out"
"Fake Friends '08"
Lola Bleu – Love Will Find A Way (2010)
"Hate To Wake Up"
"I Found You"
"What Do We Do"
"Love Will Find A Way"
"A Little Hope"
"Journey"
"Where Do We Go From Here"
"So Over You"
"Get Away"
Krizz Kaliko – Shock Treatment (2010)
"Hard Core"
Tech N9ne – Seepage (2010)
Matic Lee – Smoke and a Mirror (2011)
"Flight"
"Smoke and a Mirror"
Kristmas – W2 Boy (2011)
"My Good Thang"
"Something Wrong"
Tech N9ne – All 6's And 7's
Tech N9ne Collabos: Welcome To Strangland (2011)
Jose And Mary – Jose And Mary (2011)
"Petals"
Antjuan Adams – Then Til Now (2012)
"N D Air"
"Traffic"
"Down 4 Da count"
"Baby Baby Baby"