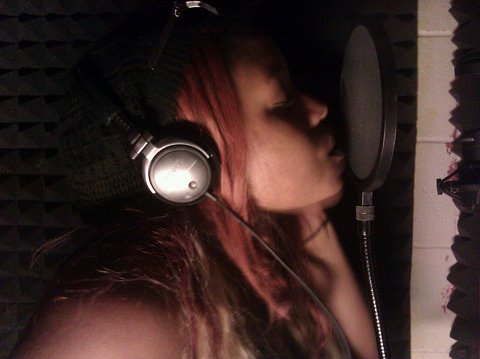 A dream-like instrumental by J.U.S.T.I.C.E. League plays softly in the background. Close your eyes…
Listen to Tech N9ne ask,
"Where am I?"
A soft, angelic voice begins to converse with Tech:
"You don't know where you are?" the voice asks.

"No, I don't."

"You're in Strangeland," she answers.
That line has become a central piece to the current direction of Strange Music. Tech's music has evolved into this universe, as of that moment known to everyone as "Strangeland".
That heavenly voice belongs to someone whom is no stranger to this universe–it belongs to the beautiful songstress Jerita Streater. She has been featured on other Strange Music tracks in the past, and hopefully more in the future.
She recently made the leap to California as she prepares to show the world who Jerita Streater is. In a business where competition is fierce, she is full of the drive and determination it takes to succeed. She has her eye on a future Grammy award and she won't stop until she gets it. We were lucky enough to drag her away from work on her solo demo long enough for her to inform Strangeland who the person behind that voice is.
First things first: Where are you from, Ms Jerita?
I was born in Camarillo, California. My brother Jerez Rayen Streater who is only 1 1/2 years older than me and I traveled a lot because my mother, Saundra Gillin, was in the navy as an air traffic controller. My mother joined the navy when she was 18. My father was always in and out of my life. He met my mom in the navy when they were stationed in Spain. She had my brother Jerez when she was 26 and had me at 28. My father soon fell back into his old ways and was in and out of my life–in and out of jail. He soon remarried and I lost interest in speaking to him. He's currently in jail now serving a life term.
We were pretty much military brats. We've lived in the Philippines. We were there when Mount Pinatubo erupted. We also lived in California and Atlanta; then my mother retired and we ended up in Kansas City, Missouri. That's where my mother grew up and at the time felt that was the best place to be with family. I was in 7th grade and my brother was in 8th when we arrived in KC, MO and it was definitely a change. My brother and I had never been in a state long enough to make general close bonds with others. I guess you could say we were use to being the "new kids." My mother on the other hand grew up in the 30's and 40 block of Kansas City. My mother also remarried to the father of my little sister Tatiana and Cameron Gillin. Tatiana is 13 years old, and Cameron is 12. I love them dearly they are such great kids and a blessing.
My mother divorced their father divorced before we moved to KC, MO. My mother has been the main person in our lives. She is the single parent of four kids. She is a queen.
How close were you to the volcano? What was that like?
It's a very tiny island so we were very close. It was scary and I can remember bits and pieces. They actually interviewed my mom on KMBC 9 news. She was very shook but all in all it worked out. I remember the roof falling in and waiting on the ship to take us back to the mainland.
What is your musical background? How did it start?
My mother said I started really singing when I was 4. I would watch Disney movies such as Aladdin and The Lion King and sing along. Then when I was maybe 8 or 9, I took summer classes at a taekwondo camp my older brother and I attended every year in Atlanta. They had this sort of a talent show we put on. Basically you got in front of the class and sang or rapped. I got up and sang "Twisted" by Keith Sweat, just the chorus though. After that was the first feedback I'd ever gotten from a crowd other than my family on how I sung. Everyone was surprised and clapped. I felt so lifted and happy.
When did you realize that music was your calling?
I always knew music was my calling. I would always sing to myself and not even notice. Music made me happy. It was, is, sort of like therapy. I was young, maybe four or five, and knew songs by artist such as Sade, Michael Franks, and Michael Jackson. I knew all the songs by heart. My mother is a huge jazz and soul music fan.
What were your favorite artists growing up? Songs?
My favorite artists and songs growing up were Sade, "No Ordinary Love"; Michael Franks; Michael Jackson, "Will You Be There"; Mariah Carey, "Always Be My Baby"; R Kelly, "Bump N' Grind"; Usher, "Nice & Slow"; TLC, "Red Light Special" and "Creep"; All-4-One, "So Much In Love"; Xscape, "My Little Secret"; Barry White, "Practice What You Preach"; Jackson 5, "Who's Lovin' You"; Janet Jackson; Marvin Gaye, "Let's Get It On"; Billy Paul "Me And Mrs. Jones"; Eminem; No Doubt; and more. It is a real wide variety.
What are your favorite artists now? Songs?
Some of my favorite artists and songs today are still a very wide variety. Bruno Mars, "Grenade" and "It Will Rain"; Bob Marley; Damien Marley; Sade, "The Moon And The Sky"; Disturbed; Michael Jackson "Heaven Can Wait"; Mariah Carey, "We Belong Together"; Eminem, "Seduction"; Usher; The Weekend; Jay-Z; Lil Wayne; Adele, "Someone Like You"; Lil Kim; Justin Timberlake, "Until The End of Time"; Robin Thicke, "Sex Therapy"; André 3000, "She Lives In My Lap"; The-Dream, "February Love" and plenty more. I could go on for days.
What was your first recording session in a studio? How old? How did it go?
My first recording session was at a home studio where I lived in Grandview, Missouri with friends that I knew from school. We all came up with a song in choir and they asked me to come by and record. We were in the living room with their family surrounding us. I was very nervous. After we finished they put the finishing touches on it then let me hear. I was probably 17 at the time. I couldn't believe it when I heard it. I was so excited I went home and woke early the next morning to show my mom. I was almost grounded because I came in after but after I let my mom hear the song, she was so proud. She forgot about being upset. About a couple months after I had a friend in choir class, whom also played the piano, ask me to do a poetry night at Grandview High School. He convinced me to sing Mariah Carey's song "We Belong Together". He would play the song on the piano with me and sort of helped me gain the confidence to do it. I sang in the concert choir and also did a couple musicals at our school but never something where it was just me and only me performing by myself. I was nervous but it went great and at that time I was a senior and people were surprised they didn't know I could sing like that sooner. I was sort of quiet about it. I had to find my confidence.
How did you connect with Strange Music?
I had a friend in my same grade who knew someone who made beats for Tech. After he heard me at poetry night he told his friend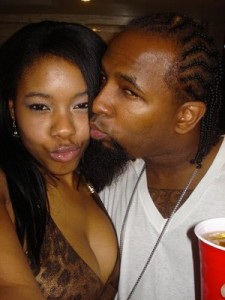 about me. His friend contacted me and asked me to sing for him. We went to his home, I sang, and then he told me Tech N9ne hit him up asking if he knew any female vocalist that could come and record on his album Everready and for Krizz Kaliko's song "Let It Go". The man I sang for referred me and to my surprise had Krizz Kaliko calling the house phone asking me to sing for him. I did, he liked it, and I was at the studio the next day. When I went to Chapman studios I got the opportunity to meet Krizz Kaliko, Tech N9ne, Travis O'Guin, Kutt, Skatterman, Rob Rebeck, Scenario, and most of their team. I was so nervous, this was the first professional studio I'd been to and couldn't stop shaking. Krizz Kaliko stayed in the booth with me the whole time I was doing my part of the song. It was very comforting and kind of him. After that day about six months later Tech N9ne came into my job P.F. Changs to eat. I reminded him who I was and said hello. Before he left the restaurant he told me he'd like me to do more songs and gave me his contact info.
I have been on albums now for Tech N9ne, Kutt Calhoun, and Krizz Kaliko. I am very blessed to have done so.
Were you a fan of Tech's music before that?
Ever since I moved to Kansas City, my older brother was a fan of Tech. That honestly is how I became interested in his music. I will admit I wasn't a huge fan until maybe high school. My brother started listening to him in middle school. I guess I didn't quite understand him and his music was new to me. Once I heard his songs, really listened to the lyrics, I could actually relate with most of the things he rapped about. I mean that's what music is about right? Loving a song and being able to somewhat understand and relate to it right?
Are there any particular Tech or Strange Music songs that you relate to?
The song I relate to the most is "Red Nose." I was always the tall awkward girl and I felt misunderstood a lot. People didn't like me for awhile when I moved to Kansas City because they simply didn't understand me.
How did Strangeland come about?
As far as techs latest album All 6's And 7's and singing on the song "Strangeland", came out of nowhere. I was traveling a lot and barely spoke with anyone with Strange Music for about a year. Then one day Tech called and asked me to sing a song for his new album. I was excited to do so and love the song "Strangeland". He said he wanted a soft sound for the hook and knew from previous songs I had done for him that I would be able to do so.
How does it feel to be part of a Billboard charting album?
It feels great to be on any of the team of Strange Music's albums. Naturally I'd love to have one of my own personal albums doing successful as well. That's the dream.
Has that feature in particular affected your career?
I enjoy working with Strange Music. Working with them gave me a tiny taste of a professional studio and a little knowledge of the industry.
What made you decide to pack up and move to LA?
As far as packing up and going to LA, this was sort of an idea of my own for a year. I always wanted to move back to California, not just LA in particular, but somehow after searching my options that's where I ended up. I have to say it was one of the biggest moves in life I've made so far. I drove from Kansas City to California by myself. It was a scary and mind-blowing experience all at once. I was driving through mountains and canyons. My mind was racing. I had no plan, no place, no job, really no idea what I was in for. I'm still working on my dream which is to become a voice heard by the world that people will relate to and love. If they don't love it, well then, hopefully they can relate to it.
How is life out there?
I'm still adjusting to life here in LA, but it was a very long journey and I know I made it out here for a reason. I just try to stay positive and take each day at a time and try to surround myself around good people.
You've been working on a solo demo. How is it coming along?
I'm currently working on my first demo. I am taking my time. I don't want to rush it and write a bunch of songs I don't like and feel could be better. It's a working project and coming along. I'm working with producers and trying to find the right engineer that is a good fit for the sound I'm trying to put out.
People can find your song "Nookie" on YouTube, is that a reflection on the sound the project is headed towards?
Hahaha. I have to laugh a little. I'm actually in the progress of trying to change the beat a bit so it can be more of a dance song. I don't feel like I want to be in any set genre. One day I might want to sing pop, then the next day maybe R&B, then the next day blues. You never know with me. "Nookie" is a catchy song I like. Sometimes when you write a song it's not always about you. Maybe its things you've seen happen with others as well.
Will there be any guest spots on it or will it be 100% Jerita?
I want the demo to be mostly my voice and lyrics on it so people can get a feel for my music.
What other interests and hobbies do you have?
I love writing music and singing. I also enjoy the beach, dancing, and basketball.
What do you do to relax?
I like to read a book, write music, or travel and get away
What do you want to accomplish with your music? What are your short term goals and what are your long term goals?
So far my plan in LA is to continue writing, recording, and networking. I've met a few local artists in the area that could be a great addition to my music. The dream is to win a Grammy. I wouldn't mind getting an album in the stores that makes people racing to purchase it. I just want to be heard. I don't care about being famous. I want people to hear my music and relate to it, vibe to it. I want to be heard. That's the dream. I feel like I've been underestimated. I want to take care of my family and prove to the world they were wrong to doubt me. I have the determination, drive, and hopes of being something great.
– Written By Richard Lavall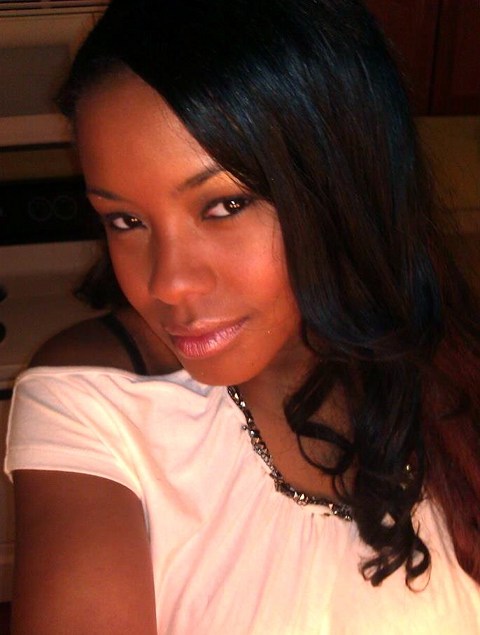 Follow Jerita Streater on Twitter: @Jerita22
What do you think of Jerita's voice and guest feature on "Strangeland"?
Leave your thoughts in the comments section below!