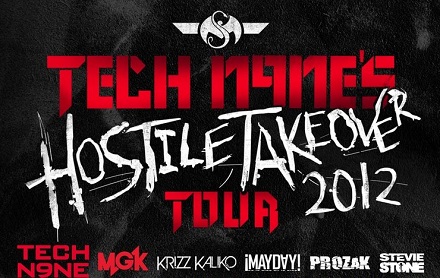 With Tech N9ne's monumental "Hostile Takeover 2012" Tour just over a month away, fans everywhere are buzzing about all of the craziness they expect when Strange Music lands in their city.
In anticipation, fans on TheRealTechN9ne.com created a discussion to share their their favorite Strange Music concert moments. The discussion was so popular that it found its way to Facebook. From the original "Hostile Takeover" in 2004 to The Lost Cities Tour, fans recalled the most significant experiences in their journey to Strangeland. Will you be a part of history when Tech N9ne and Strange Music smash through the country on the "Hostile Takeover 2012" Tour?
Click here to purchase VIP packages and tickets.
Check out some of the stories that fans had to share!
"My favorite moment was at the 10th anniversary tour up in Santa Cruz, when Tech was doing his whole T9X and IMMA TELL beat boxing routinue. Just when he was finishing up with that, a crowd of people started chanting "ooh Areola, ooh Areola!" and Tech laughed and then just started rambling totally off-script for a few minutes! It was so great and totally added to the whole intimacy of the show." – B@$$EL

"Mine, even though recent was Tech going into a most pit sorta, small venue, and singing WWC and going crazy on the floor in between a bunch of technicians." – Rupesh Saran

"My favorite moment at a Tech concert was right before K.O.D. came out. We had the first verse of Blackened the Sun on a sampler. When Tech did that verse, everybody was so loud during it. But as soon as he started the second verse that nobody had heard, the whole place went silent. It was fuckin epic.

My second favorite was at my second show. During Psycho Bitch, I was in the front row. Tech pointed at me and said, "You," then looked at the chick right next to me (who I didn't know), and said "She's a psycho bitch, so you better watch what you do." – Nick Clark

"the Strange noize tour, in NY! When the show was done, tech was going down the elevator with a kid in a wheelchair, and some gaurds. Well the elevater set to stop on each floor on the way down. Me and my buddy were walking by the elevater each time the doors would open, perfectly in synch, we would yell out N9NE! and things of that nature, and tech was laughing after every floor all the way down. Cant wait till the poughkeepsie show at the chance!" – Ralph McQuiston

"All 6s and 7s tour in Tempe, AZ shit was tight front row tech n9ne all day keep it strange pimpin" – Ryan Blue

"When tech opened in Minneapolis with Stress Relief and the speaker almost fell on him from the bass and he went straight into BEEF…sickest intro ever" – Anthony Anderson

"Met Tech at a signing last fall 3 days before I had my snake and bat he was the first one to see it and when I explained what it meant to me he gave me a huge hug and said that the meaning was the most beautiful part of it 🙂 I walked away almost in tears cuz I wasn't expecting that kind of love because I'm ftm but he confirmed my place in Strangeland" – Eryhn S Rountree-Reveile

"Hostile takeover tour 2004 Seattle at the show box sodo! Bad ass!!!!!" – Joseph Meseck

"Dallas House of Blues roughly 6 years ago, Tech stopped mid-song and cut the beat in order to tell the people in the balcony to stand up and enjoy the show or go home. He didnt start the song back up until they did. Cemented in my mind the gravity of his talent… Epic" – Mikey Burns

"2004 hostile takeover at hob sunset. There was like 300 people there. Walked in to Kutt opening. It was awesome. We kicked it with Kutt at the bar. He was amazed 2 white boys knew all his lyrics. Pdm wrecked the house. Snug and skatter got the place jumping. Techs set made me a fan for life. Been to every oc/la show since. Here's to 8 years of strange. 4/18 will be sold out. Thanks Tech and Travis" – Travis Sod Wooldridge

"Hostile Takeover 04 Seattle. Turned the lights out during psycho bitch, when they came back on tech was right in my face. Scared the shit outta me n Tech n Krizz were both laughing" – Robbie Neble-Sculthorpe
Can you recall some of your favorite Strange Music memories?

Did you attend the original "Hostile Takeover" Tour?
Let us know in the comments section below!