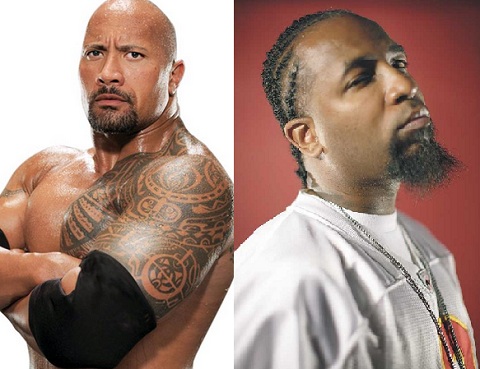 Late in 2011, WWE superstar and Hollywood action star Dwayne "The Rock" Johnson caught fans by surprise when he revealed he used Tech N9ne's music as motivation during his training workouts. Several months later, it appears that Tech N9ne is still heavy in rotation for the Fast Five actor.
The Rock once again hit Twitter recently to ask fans what he should use for his workout – Eminem, Ace Hood, or Tech N9ne. Not long after the initial tweet, The Rock jumped back on Twitter to reach out to the Kansas City King himself, adding "Big fan brother. Keep kickin' that ass. #Slave #StrangeMusic" The Rock's praise didn't go unnoticed as Tech N9ne followed up with his own tweet and even offered to provide The Rock with brand new theme music for his WWE entrances.
Training for one of the biggest matches in his career, The Rock is set to face John Cena in the main event at WrestleMania XXVIII. In an interesting twist, Tech N9ne's soon to be tourmate, Machine Gun Kelly, will actually be providing John Cena with his WrestleMania theme. As the most anticipated match in years draws near, will The Rock take Tech N9ne's offer and make WrestleMania a "Hostile Takeover"? Stay tuned for more from Tech N9ne!
Follow Tech N9ne on Twitter: @TechN9ne
What do you think about The Rock reaching out to Tech N9ne?
Would you like to see Tech N9ne provide The Rock with a WrestleMania theme?
Let us know in the comments section below!