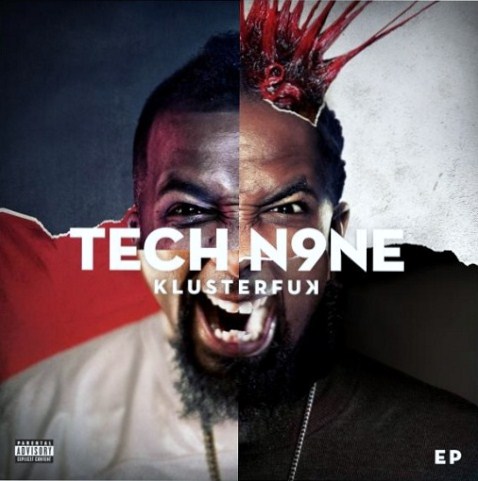 After months of anticipation and rumors, Tech N9ne's KLUSTERFUK finally hit the web for pre-order and fans received an extra surprise in the form of a bonus track from the Kansas City King and ¡MAYDAY!
Tech N9ne's long awaited EP recently became available for pre-order soon after the artwork was revealed on Twitter. The pre-order package includes an autographed copy of KLUSTERFUK, a Strange Music snake and bat decal, and an exclusive download of "Blur" featuring ¡MAYDAY!'s Wrekonize.
Fans all over the web immediately hit www.strangemusicinc.net for their pre-orders and created a buzz online as "Blur" quickly became a hot topic. From listeners anticipating any new Tech N9ne release to those curious about the Tech/¡MAYDAY! mash up, everyone seemed to be talking about KLUSTERFUK. Judging from "Blur", Tech N9ne may just be turning Strangeland upside down and the fans couldn't be any happier.
Check out what the fans had to say on Facebook:
"fuckin raw yo. and i like this new cover, red spiked hair all day!" – Tamojikato Logan West

"dope shit always coming with the dope flows" – Mike Garcia

"So sick, I hit replay like 10 times before I went to bed last night !!!! Thanks for never stopping to amazing us tech !!" – Reyna Garza

"Amazing song, great beat, I hope to see more collaboration with mayday in the future." – Mohammed Alsaleh

"Man tech dat Shit is hella tight ain't nobody fuckin wit u period!!!!!! Rich heat but u lava kc all day" – Jermaine Bynum

"Just pre ordered that shiz homie!" – Travis Sorg

"Fuck yeah ! Tech is the shit!Hes one of the only rappers that has songs for every emotion-sadness,anger,joy,fucking craziness,and sex music!!!FUCKING TECH N9NE BITCH!!!!!!!!!" – Dallas Molleda

"Pre ordered that instantly when it came on the strange site i keep almost a daily watch on the site for new albums to pop up." – Dylan Burnett

"His last EP was so FUCKKKINNN dirty…. I'm so pumped to experience the new one… TECH N9NEEEE ER DIE" – Brad Freeman

"i preorderd, heard the free download, awesome song" – Justin Stephen

"Fuck! I swear I just heard a few songs from 6s and 7s and now I'm behind again! Tech be making music like its no ones business." – Ron Estolano

"Pre-ordered ! The signed copy and extra goodies will be tight" – David Levitan
Follow Tech N9ne on Twitter: @TechN9ne
Have you pre-ordered KLUSTERFUK?
What do you think of "Blur"?
Let us know in the comments section below!