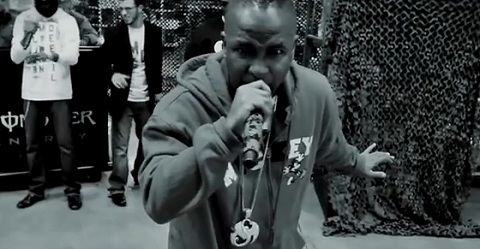 Tech N9ne went viral this past week and delivered an unexpected look into the world of Strange Music with Krizz Kaliko and CES Cru jumping in to drop a live performance of "Unfair". With the rest of the web buzzing, fans took to Twitter and Facebook to let the emcees know just what they thought of the brand new video.
Shot in black and white deep within the warehouse from the Strange Music HQ, Tech N9ne's "Unfair" video gave fans a look at what they can expect on March 24 when Tech N9ne and Strange Music kick off the "Hostile Takeover 2012" Tour in Kansas City. Between the chopper-like flows and the high energy jumping off the screen, the video had fans everywhere excited to see more from Tech N9ne, Krizz Kaliko, and CES Cru.
There's only one way to catch the live performance of "Unfair" and that's by heading to the Midland by AMC on March 24 for Tech N9ne's Kansas City date of the "Hostile Takeover 2012" Tour! Be a part of history and get your tickets or VIP passes now!
Check out what fans on Facebook had to say:
"Damn it is unfair to spit like that holy shit that tracks a banger!" – Nivek B Trato

"I klusterfuking love this vid" – Zackary Chiasson

"This video is what's up, man. Keep the stuff coming. Gold." – Christopher Baker

"YO shit is straight flame!!!! Good work y'all. Real talk" – Joshua Locke

"So fucking awesome! i fell in love all over again!" – Vanessa Sanchez

"Ces Cru is a damn good addition to the strange family." – Brian Collins

"That was fuckin dope, everyone killed it!" – Joe Harris

"The thing I love about Tech is that his live performance always delivers. Never slips, never fumbles despite his flows that make your brain twist." – Denis Trabelski

"Duh techs the greatest he never lets his fans down….his shit on fire!!!!" – Nicole Hernandez

"This track go super hard…. Beast…. Monster… Luv this shit" – Kenneth Young

"Can't wait to see you on march 24th my 18th b day and be rocking it in my fav city ever KCMO TECH N9NE" – Cody David Anderson

"This song is dope! Im really digging Ces Cru!!" – Jason Kinder
Follow Tech N9ne on Twitter: @TechN9ne
TICKETS and VIP PACKAGES are now available for the Kansas City date of the Hostile Takeover 2012 tour!
Will you be in the house on March 24 in Kansas City for a live performance of "Unfair"?
Let us know in the comments section below!