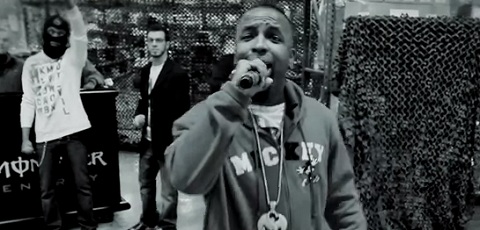 With a tongue twisting delivery, Tech N9ne bulldozed through the English language for the opening verse of "Unfair". Not to be left behind, Krizz Kaliko and CES Cru attacked the Seven production with exhilarating verses of their own, making "Unfair" one of the trickiest songs to nail down. That is, unless you're a Technician.
With the release of Tech N9ne's "Unfair" performance video, fans all over are buzzing about the hit collaboration that first made its impact on Welcome To Strangeland. The video was just a taste of what fans can expect when Tech N9ne, Krizz Kaliko, and CES Cru hit the stage on March 24 at the Midland by AMC in downtown Kansas City.
In anticipation of the event, we hit Facebook to see how many Technicians knew the lyrics to "Unfair". Much like we expected, the army of Technicians proved that no track was too "Unfair" to memorize. Check out what they had to say:
"I know every song of welcome to strangeland.." – Moko Koza

"Im on a pilgrimage to the rhyme mecca because im tecca and this mind left ya down at the bottom because n9nes betta" – Vegas Mike

"Who doesn't?! LOL" – Corbin Sterling Moore

"Bumble bee tuna ;D" – Jason Juvenal

"I'm on a pilgrimage to the rhyme mecca, because i'm tecca, and this mind left ya, down at the bottom cuz n9ne's betta… u know i know those lyrics! is that unfair for those who don't? haha" – Antonio Coffee

"If u don't then u aren't really listening." – Brad Woody

"I'm one of the two in the cru, with a knife in my pocket and one in my shoe" – Matt Bowie

"Every last word to every song I got of u in my phone" – Christian Dockery

"I wont let this rap thing bury me, imma let these bat wings carry me!" – Aron Harris

"When im dead em i get up in the head of a nigga that said it im pickin the lead up and wet em look like a predator imma get em and let em pass skip the peace it aint no humble we lunas! Hell ye tech keep it strange" – Aaron Hawley

"Who are these dudes we never let any of these fools cheat on the rules
Kristopher egotistical narcistic whicha
If they say no then we tellem to get up n move we makin some rules" – Johnathan Joel Choy

"cant go wrong wit Tech N9ne!!!!" – Tristi Jordan
TICKETS and VIP PACKAGES are now available for the Kansas City date of the Hostile Takeover 2012 tour!
Do you know all of the lyrics to "Unfair"?
Will you be seeing "Unfair" live in Kansas City?
Let us know in the comments section below!