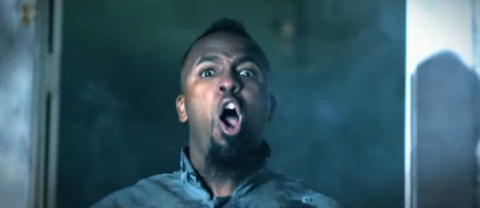 The barriers at BET come down this Friday when Tech N9ne's "Am I A Psycho?" gets its premiere on 106 & Park.
Tech N9ne's haunting music video will make its debut as the "new joint" of the day on the popular video countdown. The video premiere will mark the very first Tech N9ne music video to air on 106 & Park, and with an already successful year behind him, fans are taking notice. Following the official announcement, fans hit Facebook to congratulate Tech N9ne and celebrate an accomplishment that was years in the making.
Don't forget to tune into BET's 106 & Park at 6PM EST (5PM CST) on Friday, February 17, 2012!
Check out what fans on Facebook were saying:
"Its about damn time tha world gets to really hear what tha mothafuckin buzz is about in strangeland." – Andre Duarte

"Watch out drake,j cole and all them fake azz rappers out there ya boss tech comin thru." – Ricardo Gallegos

"DWAAAAAM! its about time BET is realizing that (TECH N9NE) STRANGE MUSIC is the way. Whats Sizzling?" – Anthony Davila

"its time ppl realize who the king is……TECHNICIANS!" – Charles Anderson

"Congrats Tech it has been a long time comen" – Natasha Cornelius

"Awesome!!! Finally mainstream went Tech! Lol. Love ya TECH :D" – Bree Nakai

"The perfect day in history SM" – Tony Metaphorically Unique Whitfield-Warren

"Congratulation tech it's been a long time coming and you deserve it… they been sleeping on you for to long but i guess they alarm clock ringing now.kcmo 816 stand up. Its your time now so take it and turn it up side down on they assess. And know this you are bridging generation gaps cuz i had the cd in my car and my son said i didn't know this cd was that good until i listened to it so i started laughing and said he always been good even when back in day when Mitch bade drop so i had to play that for him too now he fan" – Frank Short

"Well its about time they (bet) gave tech his due congrats for strange music and followers friday will be a great day." – Terrean Neal

"Fuck yeah tech nine!!!! U knw what I'm watching on Friday!!!!" – Renee Andrea Carrillo

"finally! we need to get him to number 1!" – TC Fontes

"Hell yeah Tech!
Destroy the mainstream, slowly, but surely (:
Cool, thank you!" – John John Castillo

"Tech told us ., "Tech will never go MainStream, MainStream WILL GO TECH!!!!! KCMO baby 816" – Keenan Savage

"Make sure we technicians stick together…and vote for his video…." – Lupe Barrera

"Damn I guess the world ending this year! #106&Park" – Jay Kidd
How do you feel about Tech N9ne's 106 & Park premiere?
Will you be tuning in?
Let us know in the comments section below!