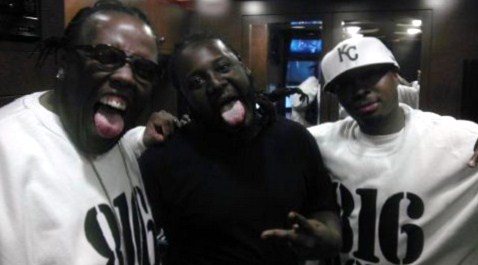 T-Pain's recent tour date in Lincoln, NE received a visit from Strangeland thanks to Krizz Kaliko, Tech N9ne, and Makzilla.
Although not included in the photo, Tech N9ne joined Krizz Kaliko and Makzilla for a recent trip to Nebraska to catch Nappy Boy Ent's T-Pain during his 2012 Snowstorm Music Tour. The photo of T-Pain, Krizz Kaliko, and Makzilla was shared over Twitter soon after. Fans may recall that T-Pain's history with Strange Music has included multiple collaborations, including "F**k Food" from Tech N9ne's All 6's And 7's, which also featured Krizz Kaliko. The recent sighting of Krizz Kaliko and T-Pain indicates that more work between the two may be on the way.
With Krizz Kaliko's Kickin' And Screamin' scheduled for a May 15 release, could listeners expect to hear another T-Pain and Krizz Kaliko collaboration? Stay tuned for more from Krizz Kaliko!
Follow Krizz Kaliko on Twitter: @KrizzKaliko
Would you like to hear more music from Krizz Kaliko and T-Pain?
Who do you think will appear on Kickin' And Screamin'?
Let us know in the comments section below!