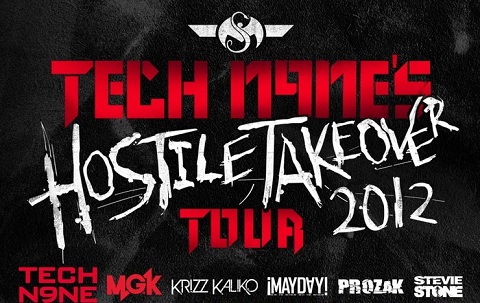 Tech N9ne's "Hostile Takeover 2012" Tour is just over a month away and the buzz is beginning to hit an all time high. Joined by Machine Gun Kelly and Strange Music's Krizz Kaliko, ,¡MAYDAY!, Prozak, and Stevie Stone, Tech N9ne is set to shatter records with the longest tour in rap history. The "Hostile Takeover 2012" Tour is shaping up to be the most exciting event this summer and fans all around the country are getting ready for the arrival of the king.
With a staggering 90 shows in 99 days, Tech N9ne's latest tour will bring Strangeland to cities like Chicago, New York, Los Angeles, and Seattle. Whether they're sipping on Caribou Lous for Tech N9ne or lacing up for Machine Gun Kelly, fans on Facebook and Twitter are making one thing clear – "I'm Ready!"
When Tech N9ne and Machine Gun Kelly roll through your town, will you be a part of history? Click here to grab your "Hostile Takeover 2012" VIP Package!
Check out what fans are saying on Facebook:
"Can't wait to see you VIP in Brew Cityyy ♥" – Maria Ramira Herrera-Ward

"I think wen yuhh come home for thu concert you should perform Come gangsta . ♥" – Tierra Stuart

"my vip pack got here today, thanks for all the fresh shit that came with it Tech N9ne" – Matt Bowie

"So glad y'all are coming to Orlando again! It'll be 4 years in a row now" – Amy Pierce

"Can't wait for the birmingham AL show" – Graham Livingston Ard

"yall are the shit cant wait to see you guys in las vegas this year" – Deon Davies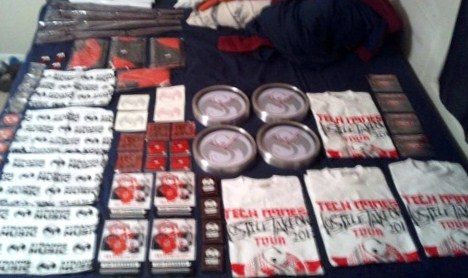 "I got 4 of these mothafuckers! Strange Music till the day I die !!!" – Tres Aurland
Follow Tech N9ne on Twitter: @TechN9ne
Are you getting a VIP package?
Who are you most excited to see on the tour?
Let us know in the comments section below!