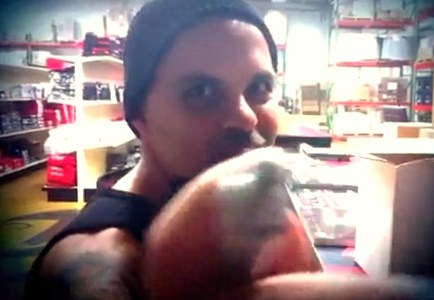 With just a week left until their official Strange Music debut is released, ¡MAYDAY! has hit the Strange Music HQ in Kansas City, MO to begin signing exclusive pre-orders.
¡MAYDAY!'s Take Me To Your Leader will officially drop on 3/26 and features guest spots from Tech N9ne, Krizz Kaliko, Murs, Dead Prez, and more. Strange Music's exclusive pre-order offer is giving fans the very best way to experience Take Me To Your Leader with an autographed copy of the album (autographed by ALL SIX members), an exclusive t-shirt (XL only), a full color sticker, and a bonus free download of an unreleased ¡MAYDAY! song.
The pre-order doesn't end there though, as Strange Music recently announced that a copy of Tech N9ne's brand new KLUSTERFUK EP will be included with every pre-order! That's right, Tech N9ne's latest EP, produced entirely by ¡MAYDAY!, will be packaged with every Take Me To Your Leader pre-order for the ultimate ¡MAYDAY!/Tech N9ne combo.
As the buzz builds, ¡MAYDAY! hit the web to share photos and an exclusive video of the pre-order signing process. Will you be one of the lucky fans to get an exclusive pre-order?
Click here to pre-order Take Me To Your Leader with a free copy of Tech N9ne's KLUSTERFUK!
Follow ¡MAYDAY! on Twitter: @MAYDAYMUSIC
Have you pre-ordered your copy yet?
Let us know in the comments section below!
Podcast: Play in new window | Download