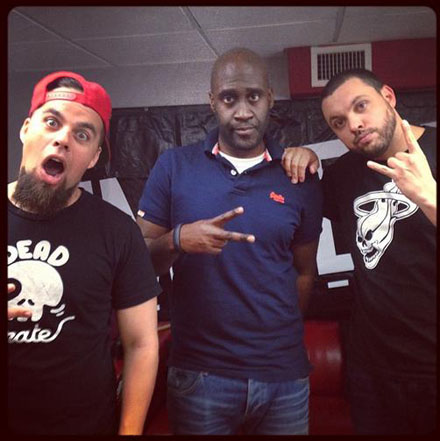 That's right. At this very moment, hip hop heads everywhere are getting preemptive ear-boners at the thought of Wrekonize working with one of the most influential emcees in hip hop history!
Recently, Wrekonize took to his Twitter to announce that he was working with a hip hop legend for his upcoming solo Strange Music debut The War Within.
Speculation began immediately as to who he was referring to, but Wrek didn't make fans wait long, as he posted the above picture on his Instagram account shortly thereafter.
For those not familiar with Posdnuous, he is 1/3 of De La Soul, one of the most influential hip hop groups of all time, who were instrumental in the formation of the Native Tongues posse, a collective whose influence spans dam near the entirety of the hip hop spectrum.
While details are still limited, we know that the two have been in the studio together, and we can only assume that greatness will come from it.
The War Within is set to drop June 4th, until then follow Wrekonize on Twitter and Facebook for all the updates!
Who else do you hope to see on The War Within?

What's your favorite De La Soul track?
Which are you more excited for, Wrek's solo album or MAYDAY's new album?
Sound off below!