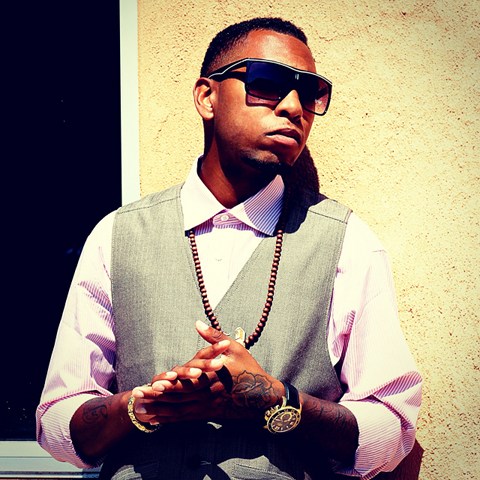 Kansas City is host to some of the finest producers in hip hop, and the world is just starting to figure that out.
Names like Seven, Info Gates and Leonard D. Stroy keep Kansas City vibrant with the wide array of colors they offer to the hip hop wall of sound. Tylan Briscoe, aka MONSTAMUZIK, is hoping to add his name to that hat of original talents that make Kansas City one of the most distinguished and original in music.
His production on Kutt Calhoun's Black Gold is the only beat not produced by Seven. With his hard-hitting and well-tuned 808s, Tylan Briscoe gave Kutt Calhoun just what he needed to craft the perfect street album with the song "It's Goin' Down".
We had a chance to talk to the up-and-coming producer. Peep game on what he had to say.
How long have you been producing?
I've been making beats since I've been in the sixth grade, so I'd say roughly around eight or nine years.
What got you into this?
I wanted to make an original song so I started making my own beats.
So you did it out of necessity then because you didn't have any beats around to rap on?
Yeah, I didn't have the instrumentals but I had to try and remake the instrumental.
You had aspirations to rap then before you ever wanted to be a producer?
Yeah I was to be a rap star before I ever started making beats and then I started making beats and then got hooked on that instead.
Who do you make beats for right now predominantly?
I work with a lot of artists. I'm actually producing for one artist right now by the name of Prez. He's coming out with a mixtape this month but I work with a lot of artists. I've worked with Donte Flush, I've worked with The Popper, I've worked with Rich Tha Factor. I've worked with a couple of other artists as well.
Do you have a style or things that are in your beats that make them distinctively yours?
I really don't have a set style. One of the producers I look up to are Timbaland and Ron Lesley, I look up to them as far as making music. Basically though the lead synth that I always use, I use a certain lead synth and it's a certain pattern that I like to use. That's what makes my music more unique it gives it that MONSTAMUZIK sound.
Did you have any music background when you got into producing?
Nope. I just played by ear. Still doing that.
Now that you've landed a track on a Kutt Calhoun album, how do you feel about your journey as a producer?
I think this is going to open a lot of doors and opportunities for me. It's a great artist working with another great local producer.
How many tracks did you contribute to the album?
I originally sent him three tracks. He loved all three but I think he only chose the one in particular for this album but he said most definitely we'll be working on a lot of other stuff. He said my sound is the best sound he's heard from a lot of different producers in our city.
What did he like about the sound and what was he looking for?
He was looking for that tight 808 and that 808 drop man. That's one of those signature things that I also have are my own custom 808 sounds.
If you're producing for a rapper like Kutt and maybe rappers today in general what are some key elements that you think should go into the production?
Basically I just try and take each rapper out of their element. I want to take them on a different route than what they're used to. I try to make them sound more unique than they already do. I try not to make a beat that they're accustomed to but make something that they could be potentially on that sounds different.
What do you think about Kutt Calhoun as an artist and an emcee?
Very lyrical. I like his lyrical content. Before I never really listened to Kutt but I listened to a lot of Tech and I heard him on a lot of Tech's stuff so I enjoyed listening to him as a featured artist but just listening to his solo albums, his solo projects are immaculate.
If you had to pick one other artist on the roster that you could produce for, who would that be?
I couldn't pick just one, I'd have to pick two and my two picks would be Krizz Kaliko and Jay Rock.
How does it feel to have a beat picked on a Strange Music record?
It feels great! It feels like another accomplishment in my journey to become one of the best producers in Kansas City, Missouri.
What's in the future for you and how do you think this is going to fuel your journey?
I feel like there's going to be a lot more tracks coming from MONSTAMUZIK to Strange Music, not just Kutt, Tech, Krizz Kaliko but everybody in Strange Music.
CLICK HERE TO PRE-ORDER BLACK GOLD
What do you think of "It's Goin' Down"?
Leave your thoughts in the comments section below!