With their debut Strange Music album Constant Energy Struggles still going strong and a spot on arguably the hottest tour in hip hop, CES Cru is right in line with the Snake and Bat motto: "It goes up."
We caught up with CES Cru while they had a tour stop in Vegas to see what national tour life is like for the duo that's being thrust into the spotlight.
This is your first Strange Music tour, how are you guys enjoying the tour so far?
Godemis: Enjoying the tour a whole lot. I feel like I'm enjoying it a little more than the fans are when we interact. We're just being busy man and really really doing it and putting in the groundwork. I'm only on stage a short amount of time, 20 minutes, but I continue to work when I get off stage and converse with the crowd, sign autographs and snap all the pictures. Just trying to get a real feedback if they really fucking with us or if they're just riding with us because it's Strange and they really fucking with us. I've met so many people on tour and they're just impressed and have the best things to tell me and it feels genuine when they tell me. It's just really cool man. DIBKIS all day. Gravy.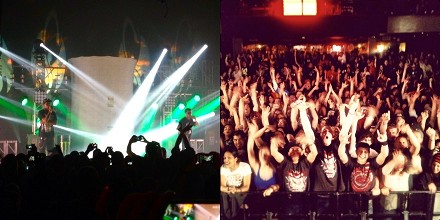 What's the set like for you guys? From what we've heard it's non-stop energy.
Godemis: Oh yeah we just pedal to the metal the whole time. We come out "4 Nothin'" acapella which is an absolute mind fuck. The fans already know about that. Then we move into "Juice" minus Tech. That goes ham to fans now because the music's been circulating so as soon as they hear that bassline, they're hollering. They're jumping up and down with us and wilding out and shit. "One Bomb State" after that and that's a little crowd participation there so we get their hands working because we already have them jumping up and down at this point. Then we do some more hot shit off the catalog from Constant Energy Struggles, which is super-cool. We've come to a point now that all of our older songs have cycled through our set, you know what I mean? It's all new material that we're doing up there and that shit's fun as hell. Like I said the music is circulating so people are familiar with it and responding really well to it. The set's going great. It feels like longer than 20 minutes you know what I mean? There's a lot to take in when you're up there and I try to take it all in you know, but we killing them. We're warming them up real nice. Rittz goes on right after us, so the whole show is just bananas.
Yeah another newcomer on the Strange Music tour is Rittz. What's his set like?
Ubiquitous: He's killing it on stage man. Rittz blazes it up on stage, every night bro. This guy can bust at an unreasonably fast pace for the entirety of his set. That shit's fucking crazy. When Rittz is on stage what it feels like is that it feels like you're at a party. That dude gets it going for real. We giving him High Fives all day.
Godemis: (In his best Rittz voice) "High five!"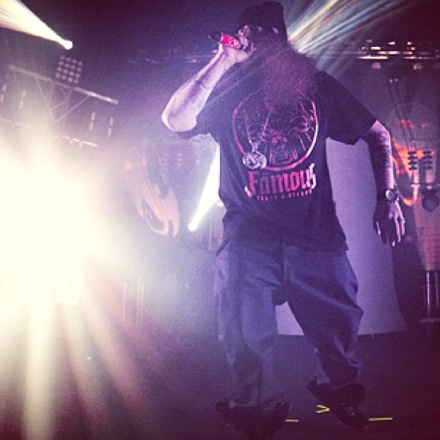 Do you guys have any favorite moments from Tech's new set?
Ubiquitous: Yeah there's a lot of dope shit in the new set. I really like "Dysfunctional". I guess that's something new that they worked into the set. It's a real dope song. Tech's doing so much in his set though, you know what I mean?
Godemis: I was in the crowd the other night when "Dysfunctional" came on and that shit was crazy. Everybody sings that song., ALL the words. That shit's bananas.
For the tour, a very small portion of it is spent actually performing on stage. You guys are on the bus a lot of times or at Excalibur eating Kung Pao chicken…
Ubiquitous; You're cutting into my gambling time Jeff, you're cutting right the fuck into my gambling time. I'm just going to be real with you! I'm in Vegas right now. You know, anyways…let's go.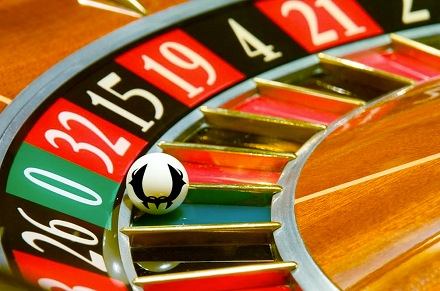 You shouldn't be gambling. Now when you guys are on the bus travelling between cities, how is most of your time spent?
Godemis: Uh…watching TV, watching DVDs, be in the bunk just maxing and relaxing. Staring out the window. We've been working on a little bit of music as well. I've got the homie Info Gates at home sending me beats all the time. You just try and stay busy and I'm claustrophobic so I gotta keep my mind off the fact that I'm on this bus that's not about to stop so that I can vomit (laughs). You just try and stay busy but everybody on the bus gets along great and it's a lot of fun and shit.
For people out there wondering whether or not to get tickets to this show, what would you tell them?
Ubiquitous; Let me tell you this bro bro, we're in Las Vegas, we're playing The House Of Blues and this shit is sold out and every show before this one is sold the fuck out. So…take that to the bank and cash it. I don't even know what to say. If you want to get tickets you better get them bro.
Godemis: If you want to be on some lame shit like "I'll just go next time, I don't think I'm coming to The Independent Powerhouse Tour" you're on some lame shit, straight up.
CLICK HERE TO GET YOUR TICKETS AND VIP PASSES TO
THE INDEPENDENT POWERHOUSE TOUR 2013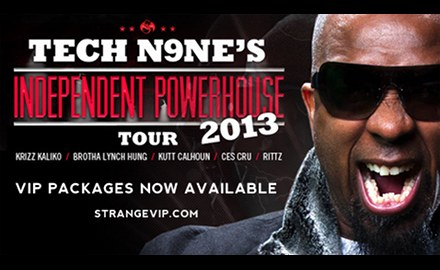 What's your favorite part of the CES Cru set?
Leave your thoughts in the comments section below!