The Life and Times of Jonny Valiant is most certainly going to affect a list like this in the future.
But it ain't out yet, so we're here with a run down of the 10 most essential tracks you need to know about if you want to get to know Rittz. The Atlanta-bred emcee that came from obscurity to being one of the hottest commodities in hip hop didn't get here for no reason: his expertise on flow patterns is matched only by his ability to write great songs whose meanings are served with impeccable delivery and execution.
Possessing the whole package of a rap star, his catalogue must be celebrated from the beginning.
Yelawolf – "My Box Chevy Part 3" (Feat. Rittz)
Rittz's announcement party, this song from Yelawolf's Trunk Muzik mixtape features Yelawolf and Rittz spitting fire over a WillPower production that is equal parts relaxing and trunk-rattling. Rittz blacks out over the second verse and leaves people wondering "Who the !@#% was that?!"
Rittz – "White Jesus"
Rittz's first track off the White Jesus mixtape is an announcement of his arrival, a full realization on Rittz's part that despite the struggle and what it took, rhyming is what he's put here to do and there's no looking back. Over a thumping beat and ominous piano riff, Rittz spits flames. The spoken word sample at the outro makes it official: "You have something to offer that no one else has and if you don't step into your destiny and release your gift then this world will not be as bright as it should be." Amen.
Rittz – "Walking On Air"
Carefree gets defined on wax with this triumphant song of just not giving a fuck. The mood is set from the beginning: a screeching, Leslie speaker-powered organ cuts through the air, heralding the southern flavor that Rittz came up on and defines his sound to this day. If you ever want to take an ego trip to cloud 9, give this song a spin.
Rittz – "Paradise" (Feat. Nikkiya)
For the days you have a full tank of gas and a mind empty of worry, "Paradise" is the song your automobile craves. Over a smoothed-out and melodic DJ Burn One production, Nikkiya sets the mood with her hypnotic hook while Rittz shoots the breeze from the perspective of riding in his "time machine" (old-school whip). "Paradise" is the sound of enjoying what you've made for yourself and loving every minute of it.
Rittz – "High Five"
An instant cure for paralysis, this high-energy track is another example of Rittz flexing his indomitable will to be all things bad ass. "I'm the SHIT" is the main-message to be gotten from this track, as Rittz kicks braggadocio raps in the most acrobatic of ways. After this song is done, the dopeness is without question.
Rittz – "Sleep At Night" (Feat. Yelawolf)
Arguably one of the greatest break up songs ever written in hip hop, Rittz goes through the grieving process right in front of the listener. From confusion, to anger, to a begrudging acceptance, Rittz shares it all with an excellent eye for detail: a "break" turning into a "breakup", ex turning her Facebook status to "single" to his reminiscence of the time they "stayed with the fam in Orlando." You can tell by listening to this song that this was based on something very real to Rittz, in turn making this song something that we can all relate to.
Nikkiya – "When I Was High" (Remix Feat. Rittz and Tech N9ne)
Funny how things work out. Nikkiya made her presence known on Tech N9ne's All 6's and 7's over the Willpower-produced "Delusional" as well as "Promiseland". Tech then hops on the Willpower-produced remix for Nikkiya's "When I Was High", and who did he end up sharing a track with? As it turns out, the bushy-haired emcee from Atlanta would turn out to be a future label mate, going by the name of Rittz. Over this frenetic instrumental, the two emcees would meet on wax for the first time, and the rest is history.
Rittz – "Bloody Murdah" (Remix Feat. Tech N9ne)
What started on "When I Was High" soon took a turn for the deadly: killer flows, nothing more, nothing less, are here on display, as two of Strange Music's most intricate spitters clique up on this remix from Rittz' White Jesus mixtape. Tech N9ne drops one of the most insane verses he's ever mustered and Rittz caps it off with what might as well be a public service announcement: "Slumerican and Strange Music bitch!"
Rittz – "Wishin'"
The final track on the White Jesus soundtrack has Rittz baring his soul for the world to hear. All of his vulnerabilities, insecurities and weaknesses are revealed over a somber beat. Beyond this, the song is directed towards a single person, the girl that left him. Moving past the anger that consumed him in "Sleep At Night", Rittz just misses the companionship and comfort that he felt when he thought he had someone to travel with on the uncertain path he's chosen for himself: life as a rap star.
Yelawolf – "Hammer Time" (Feat. Rittz)
This delirious and reckless drinking anthem features two of the south's finest doing what they do best, spitting bars and slamming down hard liquor. This is one of those songs that encourages nothing but foolhardy behavior, as Yelawolf proclaims that he woke up "Feelin' like I ate a bag of shit for dessert" and Rittz is so hammered that he dares to think "I could get hit by a freight train and live." Bump with caution: this song might send you straight into a bender.
CLICK HERE TO PRE-ORDER THE LIFE AND TIMES OF JONNY VALIANT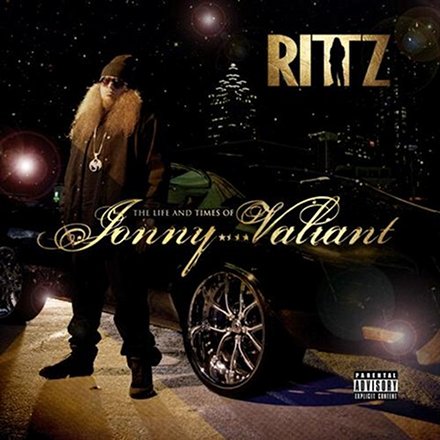 Which ones of these tracks is your favorite?
Which songs do you think we left out?
Leave your thoughts in the comments section below.