Halloween is probably a favorite holiday for many of you Strange Music fans. It also happens to be Tech N9ne's favorite holiday. A time to let loose, party and pretend you're something else for the night. For one Strange Music fan, this holiday took a tragic turn that would forever change him.
Halloween 2010 to Catlin Jackson, a 23-year-old from Montreal, Canada, was the night he had helped plan a birthday party for his friend. There was about 200 people invited to the party and this night was full of great expectations.
Catlin had been a hip hop fan for almost as long as he could remember and has constantly looked for new music from new artists. When he first heard Tech N9ne's "Worst Enemy" he said his mind was blown, and Tech has been his favorite artist ever since. To this date, his favorite songs are "Come Gangsta", "Happy Ending", "T9X", and "Little Pills". Shortly after he discovered Tech N9ne he discovered Krizz Kaliko, who ranks a close second in his list of favorites. Catlin's favorite new act signed to Strange Music is CES Cru because of their lyrics, flow and old-school style.
Let's go back to that Halloween night. Catlin and his friends were outside when a person wearing a skeleton mask ran out of the forest and shot into the crowd that Catlin was in. The bullet had grazed the back of the intended victim's head, then through the corner of Catlin's friend's eyebrow, into Catlin's mouth and out through his jaw.
He had no clue what had happened and hadn't even seen it happen. It wasn't until he wiped his mouth to see his hand full of his own blood and teeth that he realized he himself had been shot. He then walked into the kitchen and sat on the floor when he started to feel the pain of the bullet that had just ran its course through his face. His body's natural defense of adrenaline had started to wear off, leaving him in an immense amount of pain.
About 45 minutes after the shooting, the paramedics had made it to Catlin telling him that they would have to cut his favorite Tech N9ne sweatshirt as well as his Notorious B.I.G. T-shirt to be sure he was not shot anywhere else. He tried desperately to talk them out of it and fight it, but it was a battle he would not win. There were more important battles for him to win that he was unaware of at that time.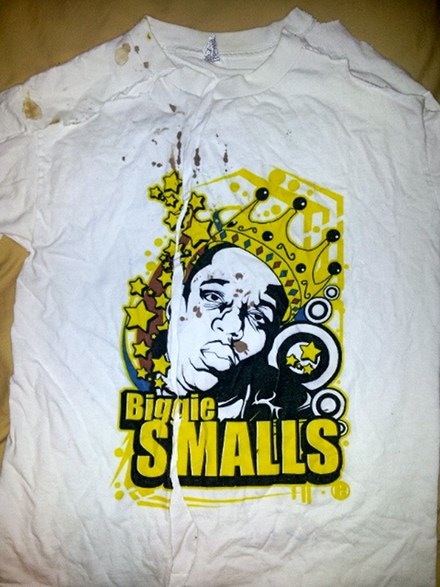 It took about an hour for him to arrive at the hospital and another hour after that to get a shot of morphine. Despite the anesthetic, Catlin said that the pain was still very evident.
For about eight hours Catlin had no idea whether he was going to live or die. His family and girlfriend were not allowed to see him for some time while he was in the trauma room. He wondered if he would ever see them again. He started to look at life and death very different. Death was now an intimate place in his mind and he had started to hope that there was a God or something more after death. Catlin was now facing a fight he never knew was coming.
He made it through the eight hours and onto the next day. He started to get reconstructive surgery which consisted of pulling out his shattered teeth and putting his mouth back together. Catlin so far has had six surgeries to fix the bone in his gums and put teeth implants in to get him back together. He is still awaiting his new teeth. Catlin was left with extensive nerve damage around his lip and cheek.
He was diagnosed shortly after with post-traumatic stress disorder (PTSD) and this still is a fight for him every day to make it through the stressors that this incident had brought about for him. There is a list of about 30 symptoms which he experiences throughout each day and night including constant stress, hyper-vigilance, difficulty concentrating, insomnia, nightmares, loss of interest, irritability and flashbacks to name a few.
One thing that Catlin credits his positive moving direction to is Tech's music:
"Listening to Tech's music was the only thing that took me to another place and helped me forget about my stress."
He explains that he has a few other favorite rappers, "But none of their music could do what Tech's music did for me." He also adds "I can feel the emotional energy he puts in each song and it instantly absorbs whatever negative energy I have."
Catlin says that he relates well with Tech's music because of Tech's humanity, being that he isn't afraid share his pain with the world. Now Catlin is following that lead and telling Strange Music fans about the fear and pain he went through. More importantly, he is telling us how he made it through. Catlin stresses that he also owes a lot of the credit to Krizz because even though he loves when Tech does his own hooks, Krizz completes many of Tech's songs. He recently met both of them at one of their shows and says it was huge for him but he was too nervous to say much other than compliment Krizz on his jacket.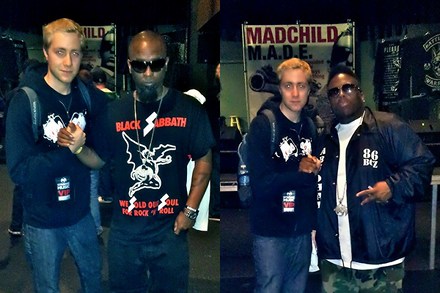 Today Catlin is still fighting his own memories of his horrific night. The shooter is presently in jail but Catlin says it makes no difference to him and adds that he doesn't hold a grudge as it would only cause him more distress to do so. Maybe because of having the lyrical support of Strange Music artists, he is stronger today. He enrolled in university just two months after the shooting and maintains good marks.
"My health is my main concern and school is a close second," Catlin explains what is in store for his life now.
He found strength and positive energy in Strange Music, this energy is flowing in its course, which leaves the question to both Strange Music and Catlin, "Who do we catch now?"
– Written By Sara Ellars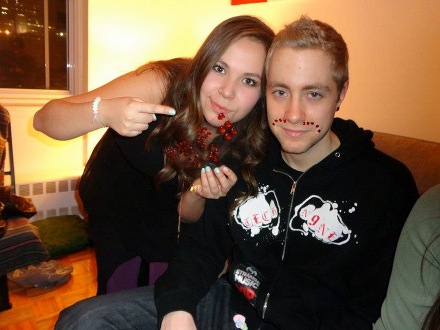 Has Strange Music touched your life?
Send your stories to fans@strangemusicinc.com