Where would we be today without all the wonderful gifts that technology has given us? The internet alone is an impressive device that many of us could not even imagine living without.
Video games even connect people to artists like Tech N9ne. The first time that Troy Johnson a.k.a. Lyrix, from VA Beach heard Tech was in the popular video game, Madden '06. "The Beast" had claimed another victim. Troy started to listen to more of Tech's music and would say that today his favorite song is "One Good Time". Not only did a video game help Troy find an artist that would soon touch his life in a way he never would have thought, he also found the internet to be a very useful tool to make a tribute to Tech N9ne's "Chopper" Trilogy.
Much like many of Tech's fans, when Troy heard the first two "Midwest Choppers" songs he felt an engrave on his life. He was compelled and wanted to be a part of this alluring music that Tech N9ne had supplied to the world. Troy describes his initial entry into the undeniable task of this tribute:
"I knew that in some way I would have to become a part of the legacy, in one way or another. So when my man Jack hit me up with this beat. I knew it was my calling to make my mark."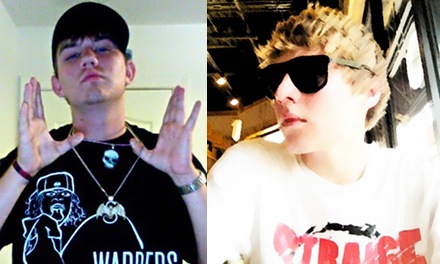 As Troy and Jack started working on the tribute they produced a core to the beat. After that they posted it online for artists to download so that they could write their own lyrics to that instrumental. Once this task was completed, the applicants emailed the finished part to Jack and Troy. Troy was not expecting to have a huge turnout, maybe a couple of people wanting to be on the collaboration, instead he came home to around 50 to 60 emails a day.
After all the submissions were sent to Troy and Jack they finally found eight more artists to be a part of this tribute. With Troy, this would make nine. What an ironic number for a N9ne tribute! These nine have never met each other, nor have they ever even spoken but somehow, they made it all work. It had proven to a difficult task that took Jack about six months to mix together all the acapella submissions that were chosen for the final cut.
Troy opens the tribute with his verse saying "I don't wanna fight you cuz you too proper, so welcome to the motherfuckin' YouTube Choppers." This tribute song is called "YouTube Choppers" or "YTC" for short.
Jack produced the song, mixing all 9 of the artists together so it sounded as if the artists were all together and not miles and miles away submitting their verses online. Killa T provides the hook, the next verses were done in the order of VBL, Maniphest DestNE, Crusher, Bonez, D-Spillz, Hurricane and Crucified.
No doubt that "YTC" is a creative way to show a tribute and a big project that many were interested in, it was also awe-inspiring that the 9 had never met but they made it work.
LISTEN
YouTube links to the artists involved:
Producer:
There is now a "YouTube Choppers Part 2" in the making.
Troy would like to encourage those who are interested in submitting their verses to visit his or Jack's YouTube page to find the beat and entry rules.
For Troy, this was a journey that he was happy to have embarked upon.
This alleviation extended to the artists that have and will be involved in the future of this tribute to Strange Music's beloved artist, Tech N9ne!
– Written by Sara Ellers, Strange Music Blog Contributor