Strange Music is known as the best in live hip hop and one of the biggest reasons for that well-earned reputation goes by the name of Stevie Stone.
Check out this footage from his recent trip to Colorado if you need further proof. Stevie goes through his bangers and rocks a small venue like it's the biggest show of his life. Songs like "Momentum", "808 Bendin" and "Get Buck" nearly blow the roof off..
One emcee remains amidst the rubble and this summer he's coming to a city near you. Make sure you catch Stevie Stone along with Krizz Kaliko and ¡MAYDAY! for the Summer Of Strange Tour 2013.
Click here to order your Summer Of Strange Tour 2013 VIP Package now!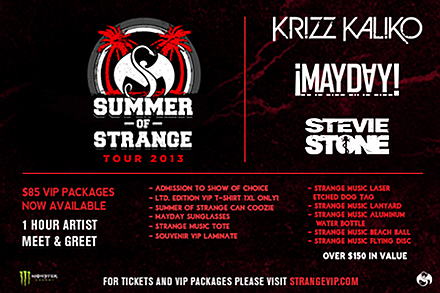 What do you think of Stevie Stone's live show?
Leave your thoughts in the comments section below!