With The War Within just on the horizon, it's time to take a look back at one of the most versatile and skilled emcees in the game: Wrekonize.
Most rappers of Wrekonize's talent and mastery dedicate the bulk of their work towards saying "I'm the shit" in the most ways possible, however as you probably have gathered by now, Wrekonize is not like most emcees.
The South Beach rhyme-spitter could have the most eclectic and varied subject matter of any emcee on Strange Music: any mood can be tackled from low to high, and any subject matter from left to right. Wrekonize is able to channel different characters, mindsets, attitudes, and personalities with just as much skill and conviction every single time. You wouldn't think by listening to his story of being a high-as-fuck dumbass on "Green Funyuns" that he would be able to take his mind to a place as dark as "Dear Suicide", but he pulls it off with heartfelt style.
Here's a look at the 12 Wrekonize songs you must listen to in order to get an idea of what kind of elite emcee is behind The War Within.
"'Look At Me Now' Freestyle"
Wrekonize hops on the insanely-popular Chris Brown track only to turn into a Loch Ness Monster of an emcee and obliterate everything in his path. Just when you thought he couldn't get anymore brutal, he pauses to let you know that the first verse was just a "Beat your bitch down warm up," leaving listeners breathless with what's to follow. This song is a live show crowd-killer and for good reason. Look out for it on the Summer Of Strange Tour.
"One Foot In The Grave" – A Soiree For Skeptics
Wrekonize and Bernz give a taste of things to come from when they would later come together with four other music revolutionaries to form ¡MAYDAY!. Social consciousness and defiance are mixed with potent results such as when Wrek utters "The food is few but we still overpopulate this moody bitch!" The technique and approach crafted here would later be perfected when ¡MAYDAY! released Take Me To Your Leader.
"Green Funyuns" – The Rooftops Mixtape
Old-school sampling is nothing new, but what about straight up using a song that's already an instrumental and rapping over it as is? In an inspired move, Wrekonize nabbed Booker T and the M.G.'s classic and unmistakable "Green Onions" and turns it into a marijuana parable called "Green Funyuns". Because Wrekonize is so good at tackling the deepest of subjects, sometimes it's easy for us to forget that he's an insanely-likable and hilarious dude. This tale of lost cars, lost minds and bong-toke-regrets reminds us with a quickness.
"Deep Fried" – The Rooftops Mixtape
With its sense of urgency, frenetic production and Wrek's forceful delivery, if you were to casually overhear "Deep Fried" you would never think the song is about a topic as "boring" as the foods we eat, but to hear Wrek spit it, this is some serious shit to think about. There would be nothing more dangerous than to pose a threat to the multi-billion dollar food conglomerates that poison us on the daily, but in "Deep Fried" Wrekonize is doing just that. Let's hope others follow suit.
"Dear Suicide" – The Waiting Room Mixtape
Wrekonize takes the instrumental from Mobb Deep's "The Realest" and explores some of his bleakest subject matter, apparent from the title of the song. Half-story and half-internal monologue, Wrekonize chases suicide like a man on a mission, only to be repeatedly denied by circumstances. "They ask me when my shit gon' to drop but now they going to fucking know" Wrekonize says after climbing a three-story building, throwing his trademark witticism into the most dire of subjects.
"If You Wake Up" – Mixtape Trilogy Bonus Track
Over an epic instrumental from British DJ/Producer Bonobo, Wrekonize weaves an a otherworldly and metaphysical narrative that displays his gifts as a lyricist that transcends street smarts with spiritual understanding. With a chorus that reaches for the heavens, surrealistic imagery and a beat that throws you into a neck-snapping trance, this is definitely one of Wrekonize's finest works.
"Details" – Elevator Music Mixtape
Call Wrek an emcee or call him a lyrical acrobat, either one is quite fitting. Over another Bonobo instrumental, Wrekonize portrays the crafty ways he goes about to stay afloat and thrive in a world full of obstacles and trapdoors. The smooth production and Wrekonize's equally-cool chorus make this a perfect summer jam.
"Fugitive" – Soiree For Skeptics
Wrekonize tells another equally strange and poignant tale in this song from A Soiree For Skeptics. In this song, Wrekonize paints the mental picture of someone on the run from the law for murder. Once again, Wrekonize somehow exercises a seemingly-unlimited capability for empathy, as we get a trip into the inner-thoughts and actions of a fugitive, with lines like "I think about that time past and realize I was gassed but couldn't see it until my life was being laid down" perfectly illustrating the regrets of a man who can never go back to a normal life. With details so personal and poignant, you'd think that Wrek wrote this song while he was on the run himself.
"Mayday And Chardonnay"
Another example of beats that weren't produced for Wrek that sound better with Wrek: Big Sean's "Marvin Gaye and Chardonnay" gets turned into "Mayday And Chardonnay". Wrekonize flaunts his newfound allegiance to the Snake and Bat as he gives a "salute to the general Tech N9ne" and dedicates the hook towards putting "new shit on her phone", that being music by "Strange Music and Mayday". Equal praise goes towards the music video featuring a stunning short-haired vixen of a woman named Miss Kali Lynn, who leaves an indelible impression on the male viewer .
"The Question" – Elevator Music Mixtape
Wrekonize tackles impending doom and how our minds deal with it with this track off of Elevator Music. The stories of two people: one with a terminal illness and an abused spouse, are told with vivid internal and external detail, as the both are seeking answers to an inescapable plight. Wrek's humanity is put on display yet again with this unforgettable song.
CLICK HERE TO PRE-ORDER THE WAR WITHIN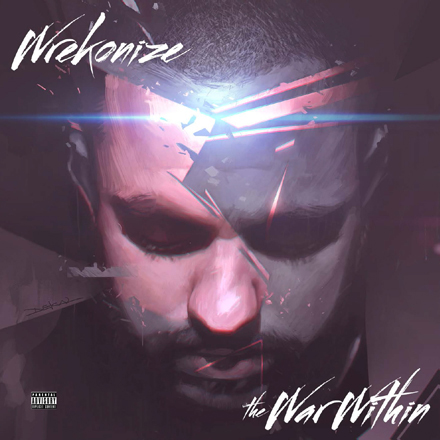 Which one of these songs is your favorite?
Which songs did we miss?
Leave your thoughts in the comments section below!