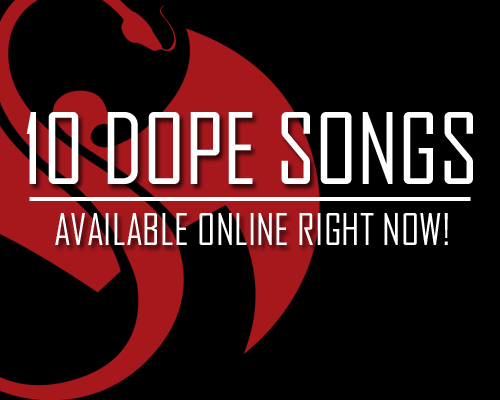 When it comes to content, the Strange Music roster has released enough music to fill your eardrums for decades to come. While the indie label is revered for running game on the sales board, the advent of the internet and rap blogs has provided Strange Music fans with plenty of freebies from their favorite emcees.
Browsing through the web, we decided to highlight some of our favorite joints currently available. Whether it's on solo cuts or features with other fan-favorites, listeners have plenty to choose from when it comes to the MP3 world.
Check the rundown below!
Jarren Benton "Billion Bucks" ft. Rittz & Jon Connor

What happens when Funk Volume's beer-swiggin psycho is feelin himself? Dope shit, period. Laid over a Kato production, Jarren Benton fires off the lead verse on this banger from his mixtape, Freebasing With Kevin Bacon.
If that wasn't enough, pre-Strange era Rittz jumps on for an ATL reunion complete with shit-talking – Rittz is really good at that. Jon Connor (you know, the guy Dr. Dre signed) rounds out the collaboration, making a strong impression long before his Aftermath deal.
Editor's note: If you dig this, check for Jarren Benton on Tech N9ne's Independent Grind Tour 2014.
MURS "Mo$ Def"

Trap, trap, trap, trap. Just before signing with the Snake and Bat, Living Legend MURS teamed with producer Curtiss King for the Shut Your Trap mixtape that swung in from left field. Bursting at the seams with grimy trap production, the tape offered up this ill homage to the one thing we all love: women…or bitches, in this case.
Laced with plenty of references to Latin women (personal preference, I mean c'mon) this smasher should be forcing its way out of car windows everywhere.
Colombiana.
¡MAYDAY! "Sinister Kids Freestyle"

Truth be told, Bernz is probably tired of hearing us talk about this track (his first verse is fire). Armed with The Black Keys' "Sinister Kid", ¡Mayday!'s Bernz and Wrekonize drop some slick lines on this freestyle cut complete with a solo from Plex Luthor.
Dropped sometime after their signing to the label, "Sinister Kids Freestyle" stomps in with thick and gritty blues riffs laying the foundation for Wrek and Bernz's mean streak.
This is that dirty, grimy, real shit.
Ryatt Fienix "Suicide" ft. Rittz

If the new Sin City flick needed a hip hop theme, this would easily be top contender. Newcomer Ryatt Fienix is currently lighting up the web with this single assisted by WLPWR and Rittz.
We can't help but get lost in a world of film Noir as Ryatt Fienix painfully croons over the somber production grounded by a hypnotizing bassline. Strange Music's Rittz flexes his penchant for storytelling with a speedy guest spot.
Keep an eye on Ryatt Fienix.
Rittz "Questions 2012"
In 2012, Rittz made his way over to the Snake and Bat, joining an already blossoming roster. To officially kick off his signing, White Jesus stepped into the booth in front of Tech N9ne himself and delivered a remix to the undeniable classic, "Questions".
Old school Tech heads rejoice.
CES Cru 'FreeDoom" ft. JL of B.Hood
Straight Kansas City, nuff said. Godemis' solo mixtape, The Deevil, offered up this hardcore cut packed with more bars than Cook County Jail (get it?)
Dark and straight to the point, "FreeDoom" was easily one of the standouts on the mixtape. Check the rhymes.
Nikkiya "When I Was High (Remix)" ft. Tech N9ne & Rittz
Rittz is on this list a lot, but White Jesus is in high demand. Fans might remember Nikkiya from her two appearances on Tech N9ne's All 6's And 7's. But before that she made an impression on Strangeland with this remix to her hit, "When I Was High".
Enlisting a pre-Strange Rittz (everything comes full circle, huh?) and the general himself, Tech N9ne, Nikkiya teamed with WLPWR for a chaotic and yet tight production that is sure to have heads feverishly noddin'.
Snow Tha Product "You're Welcome" ft. Tech N9ne
After dropping in on Krizz Kaliko's "Damage" and the Nina's "So Dope", Snow Tha Product invited Tech N9ne over for a spot on her mixtape, Good Nights & Bad Mornings 2: The Hangover.
With Shane Eli and Jon Pakfar on the boards, Snow and Tech stand atop the mountain.
You're welcome.
¡MAYDAY! – Badlands ft. Tech N9ne (Seven Remix)

Take Me To Your Leader came and left its mark as a bonafide Strange Music classic. Period. Don't argue. In the time after its release, the Miami crew unleashed this remix from none other than Strange Music staple, Seven.
Adding a little Middle-Eastern influence, Seven revamped "Badlands" into a monster all in its own category.
Harry Fraud "Rising" ft. Tech N9ne
La musica de Harry Fraud. Another unexpected collaboration came way of underground-favorite Harry Fraud as he built up the tide for Tech N9ne on this heavy cut.
Providing Tech with perfectly grimy and hard riffs, Harry Fraud let the Nina loose on a stream of consciousness type flow that kicked off his High Tide mixtape.
CLICK HERE TO GET YOUR VIP PACKAGE TO
TECH N9NE'S INDEPENDENT GRIND TOUR 2014!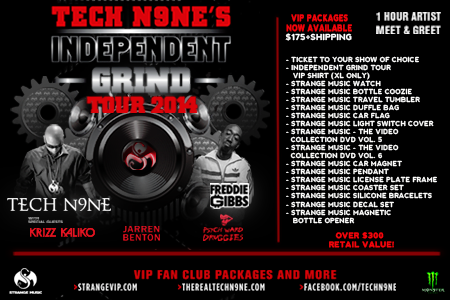 – What do you think of the list?
Let us know in the comments!