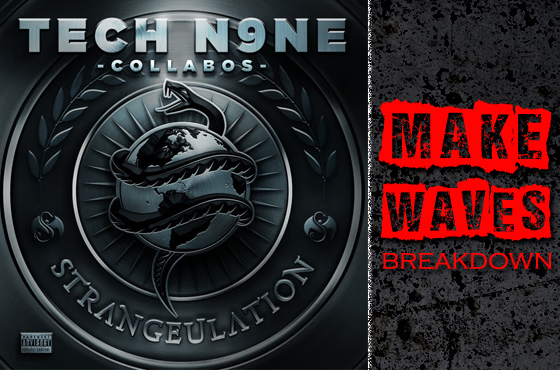 We're going behind one of the illest tracks from Tech N9ne Collabos – Strangeulation!
All of the tracks on this monumental album are making waves, so to speak, but today we're spotlighting the actual "Make Waves" with producer Seven and emcee Krizz Kaliko.
With ear-slaying guitar riffs and bars to match, "Make Waves" has already been receiving ample amounts of praise via social media.
We wanted to dive a little deeper to discover the origins of this killer song and how Tech N9ne, Rittz, Krizz and Tyler Lion collaborated to deliver it.
Check out our interview below with Krizz and Seven!
KRIZZ
Can you tell us what point you were given this song?
I was actually given that track late. Tech had his verse on it, Tyler had already written the hook, the chorus was already produced. Rittz was given it last, I was given it second to last, or just second period. I got it and I heard Tech's verse and that just always hypes me up to want to compete with him. We've been doing that ever since the beginning. He would give me a song with his verse on it just because he knows it's going to make me go even harder. And that's what happened, it was already halfway mixed when I got it and I just went on there and stepped on the gas. We had performed for the Sporting Kansas City playoffs and he told me that he wanted it to be for something like that or for a team or for like a Fast and Furious so I just gassed on it. It came out beautiful.
Was it premeditated for your three verses to imitate each other's especially toward the end?
No, it wasn't. I just heard Tech do it. The music (imitates guitar) was already doing it so you can't do anything but do that. I saw Tech did it, so I did it and of course that made Rittz have to do it. That was the most challenging part of the whole verse because you have to match those syllables. Your cadence had to match the rhythm of the guitar and drums. So it wasn't by design, Tech didn't tell us to do that he just did it so I was like, "Okay, I'm going to do it too."
As someone who is known for his hooks, how did it feel to jump on this rock heavy track where the hook was already taken care of?
Well I do rock stuff anyway, so that wasn't anything new for me, but I have always been fond of Tyler Lion's work, so I was really happy about him being on it. It doesn't matter if it's rapping or getting on the hook, I'm going to get on it and do what I do anyway. Music is what I was born to do and music is what I do best. The only thing about doing a hook or a verse is that a hook is actually a lot less work for me. It comes super easy to me. As soon as a track comes on I'll immediately hear a hook, or at least a piece of a hook. So it was a little more work for me, especially rapping double-time because that's like writing three rhymes in one. When you would normally just be writing a few words per bar, you're writing triple the words per bar. It's always a challenge, but I always welcome a challenge because I always want to see, do I still have it? Okay, I still got it. So it's always a personal challenge for me.
What kind of message does "Make Waves" hold for you?
You know, we have a song called "No Can Do" and the chorus says "Y'all can't fuck with us," and that's what it feels like to me. When I hear that song it feels like they still can't fuck with us. It sounds cocky but Kutt told me the other day that my cypher verse sounds like you listened to everybody else's verse and then said, "Okay, how can I top it?" And I said, "That's good that you think that because I didn't listen to anybody's verse before I wrote mine." So I'm thinking, yes!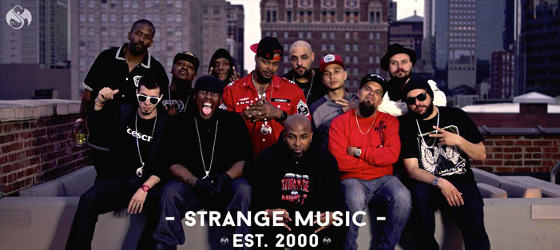 We have a quiet competition at Strange Music and I want to be better than everybody. I want to crush all of them, including Tech. He made me like that. He created this monster. When I'm rapping and there's a track like that where I can be ferocious, I'm going to display that ferocity and I'm going to come off arrogant. I was telling some people recently that even though I do come across as cocky in my music, I'm really not a cocky guy socially.
And Strange Music is the perfect place to have that friendly competition because there are so many artists here for you to compete with.
It is friendly and healthy competition when it comes to rapping. It's good to have that competition because it keeps you strong and you never get complacent. And I'm very competitive in life, period. Video games, music, sports, anything – I'm really, really competitive. This just helps me stay on top of my game because there's always somebody on your heels.
SEVEN
Tell me how did this song start? Did it start from the guitar lick?
Yes it did. That song was where I knew that I wanted to do something that had that vibe and at that tempo, but I didn't know what I wanted it to be yet. I didn't know what I wanted the parts to be so I just had Tyler come up, who's so good at just being able to play just shit that I want to use. He came up and just started playing around with some stuff. I think we did the electric first and we just recorded all those parts and that was much more focused. He had a part and I was just like, "Slow it down, play it like this. Change the vibe right here" or whatever and we just kind of manipulated the riff until he had it and I was like, "That's it, let's just record it."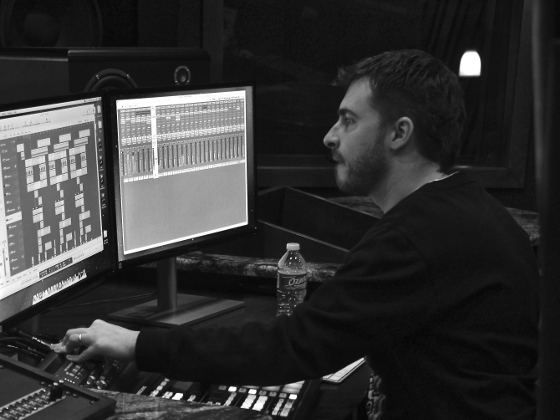 And we just started recording it, stacking it and layering it all to a metronome. It wasn't like I made the beat yet or whatever, we just stacked it up to the metronome at the tempo and then I was like, "We need something that's going to contrast this. There needs to be an acoustic guitar part." Tyler just picked up the acoustic guitar and just started playing some shit and I was like, "That's it! That's the one we need right there. That's the take." We recorded the acoustic guitar part. The whole time when he was playing everything I was already building the whole beat. I knew I wanted the 808s to drop and follow. When he played the acoustic guitar part last I knew exactly what I needed: the bongos to follow the acoustic guitar rhythmically. So we recorded all the parts and I just took them piece by piece and edited them and chopped them back down. I already heard the whole beat in my head after he played the guitar so it came together very naturally.
So what do you think of the song after you listen to it?
I love it man! It's definitely one of the highlights of the album. It was meant to be a chopper type of track obviously and a song that everybody could show off on. Tech picked the right people for sure. Krizz of course and Rittz. Everybody can really chop well for sure, but I think Rittz being on a track like that was really unique and Krizz killed it. We made that after we had been working on the album for a while, so we did "The Calling" already and done some other things with Tyler and I kept asking him to sing things that were like "The Calling" because I really love his voice like that.
It was sort of reminiscent of what he did on "Love 2 Dislike Me", the soft part of that. I know Tyler wanted to like sing like his shit. He kept telling me that, like, "I want to do it my way." So when we finished "Make Waves", I finished the beat, I did everything my way and I was like, "The hook, do whatever you want to do. The words you want to say and the way you want to sing. Whatever you envision for the hook, you do that." He took it and did exactly what he would do if it were his own record.
What does Tyler bring to the table?
Tyler's like the most talented person I know, that I've probably ever worked with in my life. He can do everything and can do it so well. I'm in awe when I work with him. It's so easy. I'm like, "I need this" and he plays the guitar parts that I need and I'm like, "What do you think about some drums?" and he goes and plays the drum parts that I need. Then I'm like, "Man, now that you did drums and guitar, you know we need bass" and then he plays the bass. It's just so weird the way that he can do everything and do it so well. On top of that he's such an amazing songwriter and singer. Even if he could just sing the way that he does, even if he was just that he would already be, because he sings so well, he'd already be such a valuable asset, but the fact that he does all these other things, can write song parts and music so well. He's just amazing. We try to work with him on everything.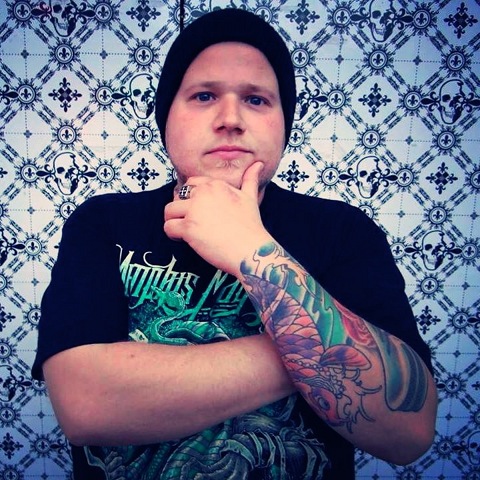 Anything you want to say about this track in particular?

I'm glad that we did a chopper song on this album and I'm glad that it was this one. It think it's super unique. Just this hybrid of rock and the hook is obviously very unlike a lot of the hooks we've done before. It's just one of those things, it was unpredictable. You wouldn't expect a hook to be like that. I've heard people say that they love the hook and I've heard people say that the hate the hook, but whether you love it or hate it, at least it's something different and unexpected. You didn't expect this to be the chopper track and it was.
CLICK

HERE

TO PURCHASE
TECH N9NE COLLABOS – STRANGEULATION AT BEST BUY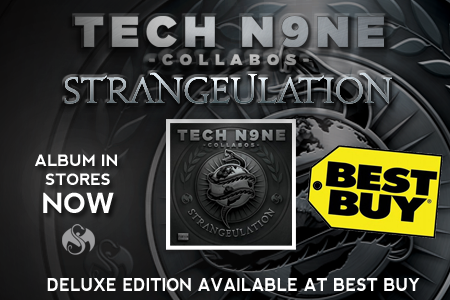 • What do you think of 'Make Waves'?
• Who has the best verse on this track?
Hit us up with a comment below!