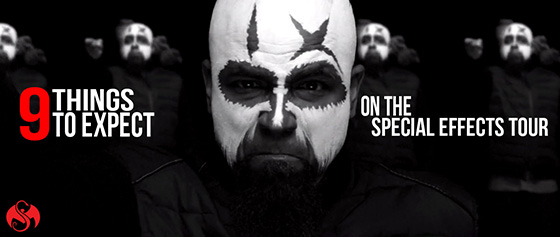 With one of the most unique line-ups Strange Music has had to date, The Special Effects Tour may be a bit different than fans might expect. We've put together a guide on the insanity that is bound to ensue during the next few months when seeing your favorite artists on the road.
A Head-Banging Experience From King 810
No Strange Music show is complete without energy, which makes King 810 a fitting addition to the tour roster. A brand new addition to the Strange Music tour game, we can guarantee that these guys will set the tone for the nights to come. It's easy to get rowdy during their set, especially when they play "Fat Around The Heart".
Zuse Delivering Your Trap Fix
The 28-year-old Jamaican rapper is recognized for his talented verses over trap beats. For those who aren't familiar with his music, Zuse brings fire to his catchy instrumentals with a prodigious work ethic. Check out his song, "Dirty Sprite", displaying his exceptional flow and style with a studio visual.
Freestyle Madness with Chris Webby
If you read our artist feature on Connecticut's Chris Webby, you will know he's especially known for his witty freestyles. His creativity seen through his improvised flows brings a unique element to the Special Effects Tour, making him an act that shouldn't be missed. Dig into his flow by listening to "Ohh Noo", from his album Chemically Imbalanced, a song featuring our very own Tech N9ne.
MURS's Upbeat, Heartfelt Tracks

We've been talking about MURS quite a bit here in Strangeland, especially with the upcoming release of his debut Strange Music album, Have A Nice Life. Setting the bar of what to expect with his newest song, "Out Of Control", we can prepare for a fun and up-beat performance by a Strange Music favorite. We had a chance to speak with him about his upcoming album as well. You should check out part one by clicking here.
Krizz Kaliko's Energetic Stage Presence
Krizz Kaliko is known to bring as much energy to a Tech N9ne show as the headliner himself. Seeing him on the road will not disappoint, as he brings endless momentum and passion at every stop. A Tech N9ne tour would be incomplete without Big Krizz.
A Whole New Tech N9ne

Tech N9ne fans, old and new, know Tech for his stage presence, his catchy songs, but most importantly, his ability to spit some rapid flows. With the new project Special Effects coming out May 4th, we can expect to see a whole new side of Tech that we haven't seen before. Fans can get a sneak-peek of his new stylistic choices in one of his most recent songs, "Dyin' Flyin'".
Awesome Merch To Show Off
Other than what is offered through our Strange Music store, there will be merchandise available exclusively on the tour. The Strange VIP Package will also include exclusive merchandise available only in this package. Show off to your friends the dope pendant, the soccer scarf, or the Strange Music ring. Interested? Purchase here.
A Loyal Fan Base
Strange Music loves our fans like our fans love us. It's not uncommon to see many cities on Tech N9ne's tour say "Sold Out." When fans come, they bring energy, hype, and most importantly, a love for music. When you first step foot through the venue doors, you become a part of a close-knit and loving family for a lifetime.
The Ultimate Concert Experience
To say "come prepared" would be an understatement. The Tech N9ne eXperience is truly something unmatched by any other show. With a roster so talented and diverse, we hope to allow our fans to capture what will truly be a night to remember on The Special Effects Tour.
Who/what are you most excited to see on the Special Effects Tour?
Let us know in the comments below.
CLICK HERE FOR TICKETS AND VIP PACKAGES