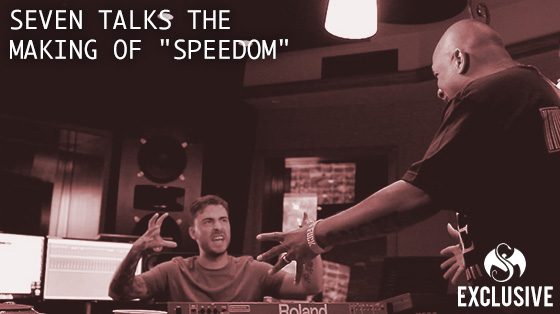 Tech N9ne's "Speedom" (from Special Effects) pushed back the collective wig of hip hop fans everywhere. The insane chopping from Tech, Krizz Kaliko and Eminem makes the track a pinnacle of lyricism, flow and cadence (not to mention, it's the most anticipated Tech N9ne collaboration ever).
The song also marks a height of production for the man behind the boards for much of Strange Music's releases, producer Seven. The mix of acoustic guitar cuts, pounding drums, and Seven's trademark esoteric sound effects make for one of Tech N9ne's most memorable beats.
We talked to Seven about the song, and he explains how "Speedom" went from an idea in Tech's head to to a musical masterpiece.
This song was one of Tech's ideas originally. Take us back to the beginning and tell us how this song started.
"Speedom" was the first song we did for the album.  That was the one that was like, okay. Whatever I do with this beat is going to sort of lay the blueprint for what we do with this album. Some of the little techniques and stuff – like "How can I make this Special Effects?"
Tech had the idea for this. It was based off the Richie Haven's song and we tracked the guitarist for that first. Instantly after I had the guitars I was like "This is going to be dope."
Who played the guitar?
Ben [Cybulsky] (Strange Music's in-house engineer).
No kidding?
Yeah. He did pretty well. He killed it. I mean Ben played guitar on over half of the album. It's cool because we work together all day, so it's easy to go to him.
It's good to have an engineer that can play instruments.
Yeah, plus he understands me. He knows what I'm going for. He knows if I'm looking for a very specific thing when I bring a musician in. Sometimes it's hard to bring that out of a player, but if a player already knows what you're going for it makes it a far smoother session.
How did the song progress after you tracked the guitars?*

After that, I finished the beat. All of these beats took me two or three days. "Worldly Angel" took me three months. Other beats will take me two weeks, but that one took me three days – just making sure everything was perfect on it.
I didn't know it was going to become what it is. I didn't even know it was going to be a "Worldwide Choppers" song. I just thought it was going to be "Speedom". I sent it to Tech when he was on tour and he freaked out about it.  So that's a good thing, because I was like, "Okay, now I'm on the right track for the album."
He came back from tour and we started recording songs. That was one he ran from for a really long time. We just had it and he was not recording it, because he knew that we had discussed it being "Worldwide Choppers II" and talked about the people we'd want to put on it and everything. I remember on Something Else, Tech called and said, "Should we do 'Worldwide Choppers II'?" I said, "No".  He was like, "Dude, why not? Maybe we should just use the same beat and put new people on it. I mean, should we do it or not?" I was like, "Nah man, you shouldn't try to do 'Worldwide Choppers II'."
When this album came around and he told me he wanted this to be part two, I was like, "Well, how could we top this?" You know, Busta Rhymes and Twista and Yelawolf…the best choppers. We're like, "Dude, there's only one way to top this and you know that. The way is to put Eminem on it. That's the only thing, literally, that will top it." Tech ran from it and ran from it and ran from it. And then, finally, he did his verse on it, ah, and killed it.
I remember Krizz did it, his verse first on it. Krizz's verse on it was, like, whew, one of Krizz's best verses. Man…that verse. I just kept telling Krizz, "That verse is special. You've done a lot of chopper verses before, that's all good, you've impressed me before with this kind of shit." But that particular verse on "Speedom", that shit, there's something very special about that verse. Tech's was, of course, amazing.  Then it was like we just didn't have anything to finish the track, you know?  It was open. It was open forever and ever, and ever.
That middle verse?
Yeah, and we kind of talked about ways that we could complete the song, because I felt that it might be kind of unrealistic.  But I kind of felt also, like if it didn't have Eminem on it we shouldn't even put the song out at all.  You know, because there's just no way to live up to the hype. Then things kind of started to take shape.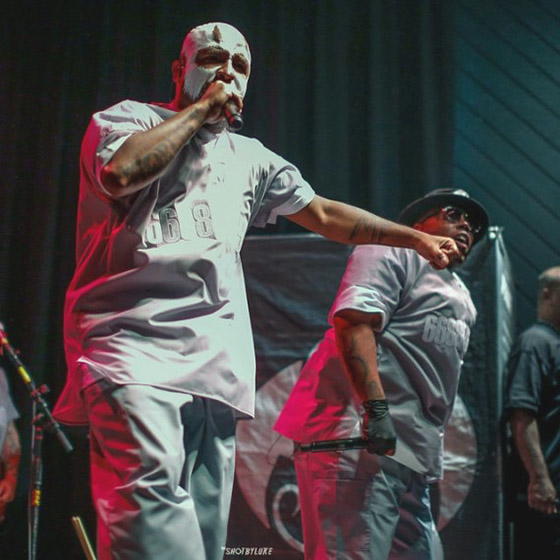 When the negotiations for Eminem started to happen, and until he actually go on the track, was it kind of like watching a sort of report on the news?

It was surreal, like when we got word that he was really going to do it. We kind of had been negotiating. Like, Travis had been talking to Paul Rosenberg and figuring it out, Tech talking to Em's camp. We talked to them before, you know? Tried to make this happen for years and years, of course. So at this point, I'm not even hyped at all. I'm just like, "If it happens, then dope." I can't go through the emotional ups and downs of this possibly happening. It went through that and then one day, it was like, "Em wants the session".  "Em wants the session?" "Yeah, he wants us to send him the session." Ben sends him the session and after that – a day or two later – we had it back.
So what did you think about Eminem's verse? I guess, what was your immediate reaction upon finding out that you got it back?
That day I left early and I remember it was a day or two after we sent off the session.  And I can remember just thinking like, it was the deadline – it might have actually been past it, like, a day past when it had to be turned in. I think the album had been mastered at that point except for this song. We didn't want to throw the song away, of course, that wasn't going to happen at that point. We had cleared the sample and the song was already dope without anyone on it, it was still usable. I was like, you know, if it comes through, cool, but it doesn't look like it's going to come through. Then I got a text from Ben saying, "We got it back and everybody's about to listen to it right now." I was at my son's basketball practice, and he called me, and everybody was in the room, and I listened to it on speaker for the first time. So, I heard it that way. I heard it over the phone.
Wow. Okay, so when you finally go to listen to the song, after you got it back, what did you think of Em's verse?
Aw, dude. I had imagined hearing Em on one of my beats my whole life, since I was in high school. I always wondered because Em, over the years, he's went through a lot of different changes, like phases of his career as an artist and everything. I didn't know how he would sound, you know what I mean? And his verse on that is one of my favorite verses, ever. He really, really, really killed it.
He did such a good job, especially being a chopper track. I knew that he would be up for that challenge, but I've never heard him chop like that. He did, like, "Rap God" where he raps really fast, but he didn't necessarily chop on that, to me.
He extended the verse, and made it longer than it was and did other things to the beat. I could tell he was really into it. He killed it. I probably listen to that every day…like, every single day of my life, to that song. I still can't believe it, man. I cannot fucking believe it.
Wow, so that's got to be one of your career highlights. Have you ever been a fan of Em, I mean a huge fan like that? I think we all are, to a degree, but…

Kanye is someone I always hold, probably the biggest inspiration to me on a production level.  But before that, Eminem was probably one of the main reasons I even do music. I always wanted to do music since I was a kid, or whatever. Listening to the Fat Boys and Public Enemy, and Run DMC, and all these. But when Eminem came out, of course, for someone like me, him being who he is, what he represents and everything, I was like, "Oh, man. There's a place for someone like me in hip hop."
Eminem is probably that symbol, that icon for a lot of people that do music now. But for me, that was very relatable. Everything that he represented was something that I could relate to. He spoke to an audience of people that had never been spoken to before, directly. So I was like, "Okay, this is real." There's actually now a place for me here
How do you think the track came out as a whole, and how did you stack it up against the other choppers?
Well, they're all special. They all have such a big meaning, you know?  It's such a huge part of Tech's career, even of my career. "Midwest Choppers" is one of the biggest songs I've ever produced, the first one. I don't want to say it's the best one, it's just the whole Chopper series is some of the best shit that Tech has done and that I've produced. I didn't do the second one, but the whole series all makes sense. It just all makes sense. It's there, the way it started and the way it ended.
It started the way it's supposed to and it ended exactly the way it's supposed to.
How does "Speedom" compare to the other Chopper songs?
Let us know in the comments section below.
CLICK HERE TO PRE-ORDER SPECIAL EFFECTS