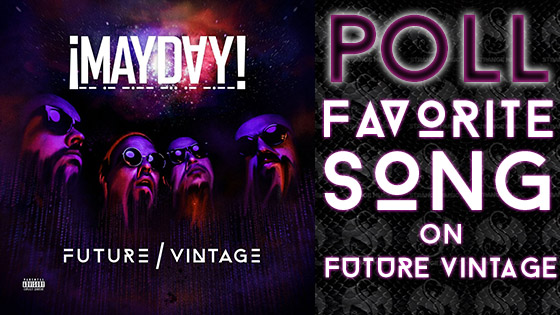 Is ¡MAYDAY!'s Future Vintage a contender for album of the year? Quite possibly. With a stacked selection of songs that all have amazing songwriting and production, it's hard to say that Future Vintage doesn't deserve strong consideration.
¡MAYDAY! covered all the bases with Future Vintage. Songs like "Space Cadet", "Fuel To The Fire" and "Can't Take It With You" kickstart the adrenaline, while songs like "Coast", "Brother" and "All The Time" chill you back out. "Against My Better Judgment" is a song unlike anything we've heard from any hip hop group, period, while "Know It" (featuring Tech N9ne) has quickly become a fan-favorite.
With Future Vintage, we got something truly special, and so comes the agonizing task of picking your favorite songs.
We allowed three picks, so use them wisely!
VOTE
[polldaddy poll=9099782]

What songs did you pick? Why?
Let us know in the comments section below!
CLICK HERE TO PURCHASE
FUTURE VINTAGE ON iTUNES