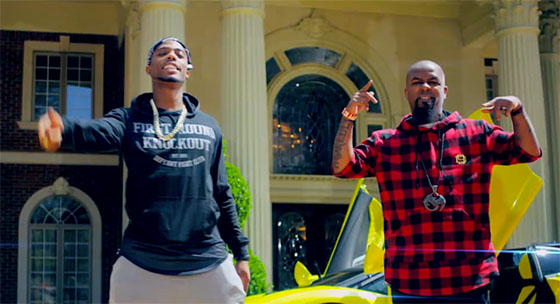 Tech N9ne and B.o.B on a joint mixtape?

Tech N9ne interviewed with the Minneapolis City Pages, talking about his collaborations with Minnesota artists, like his feature on Prof's song, "Ghost". When talking about backlash from working with bigger names like 2 Chainz and B.o.B, it brought up the question of the status of B.o.B and Tech N9ne's collaborative project.
The answer was not what we wanted, however. Due to conflicting schedules, eager fans will have to wait a little bit longer.
"We've been trying to do it for the past year, but we've both been super busy. It's a proven fact that we make wonderful music together from "Am I A Psycho" to "Hood Go Crazy." Every time we see each other we're like, "When are we gonna do it?" "It's coming!" I can't wait to see what that turns out like. He's an extreme lyricist like I am, and an extreme talent like I am. We're different styles of music, but they mesh well together. Extreme lyricist, extreme talent. We understand music, I think that's what it is."
Luckily, the idea was not completely thrown out, meaning we can expect something in the near future. Whatever the case may be, we can still enjoy their most recent collaboration, "Hood Go Crazy", and patiently await what's to come of the two.
CLICK HERE TO READ THE FULL ARTICLE
Where are you seeing Tech N9ne perform next?
Let us know in the comments below!
CLICK HERE TO PURCHASE VIP PACKAGES
TO TECH N9NE'S SPECIAL EFFECTS TOUR 2.0!