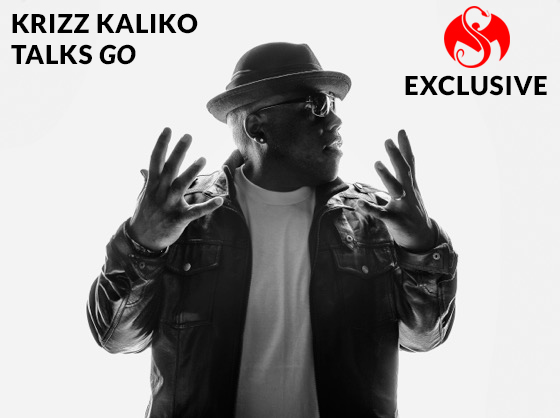 As an artist and musician, Krizz Kaliko defies explanation.
With his upcoming album GO, he has managed to reinvigorate his own artistic identity yet again, with an album that is mainly constituted of singing. With his unparalleled gift for multiple voicings and a knack for melodic genius, it only made sense that Krizz would eventually make the leap.
We talked to Krizz about GO, why this album is so different than anything he's ever done, and why it's the best album of his career. Those looking for something to blow their wig this year, according to Krizz Kaliko, look no further than GO.
It's been a long time since we've heard a Krizz Kaliko album, why the wait?
I don't know man. We've been touring a lot, I caught mono…a cold…my garden work, I lost my voice, you know, I switched religions (laughs). I don't know dude, we took a while. It's a masterful work of art, man. I've been working on it for like a year, it's called GO.
Since you put out your first album, Vitiligo, what have you explored in your artistry? How have you grown as an artist?
I've gotta re-invent myself every time. I'm competing with Tech N9ne, man. He re-invents himself on every album, every release – he taught me to do that. What's different on this? I sang a lot more on this record. I sang my heart out on this album. I'm not one of these artists that are just like, "It's my art, it's dear to my heart." I'm generally not that kind of dude, but I do mean what I'm saying, and I do speak from my heart.
I was really in a bad spot while I was writing this album. Probably one of the worst spots, mentally, that I've been at. I got back on my anti-anxiety medication after I finished my album. I let it fester while I was doing my album, because it does fuel me.
I saw this thing on Facebook where people put a semi-colon on their wrist, to support people who survive suicide attempts. That was where I was at. I really felt suicidal. The only thing that really kept me here is my sons. I love my wife dearly, I love the fans dearly, I love my Strange Music family dearly, but the thing that was keeping me here was my children. I had a close relationship with my father, and I didn't want for them to grow up without a dad. I couldn't do it.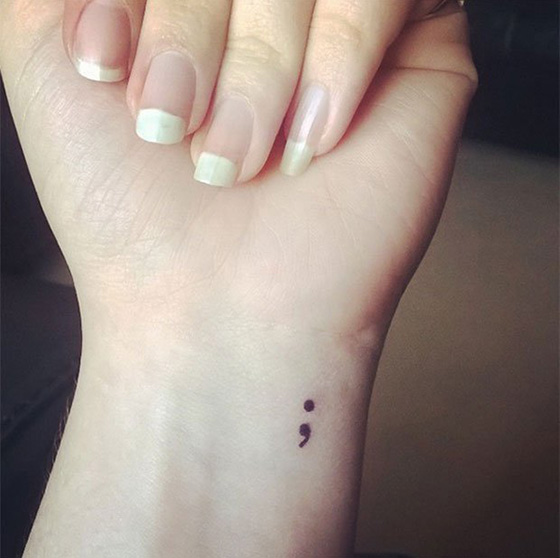 You know, I feel like maybe it's just weak people say that they feel this way, but unless you've experienced what this feels like – when your brain is doing something you can't control, then you don't know. I was in that place. Every song is not about that, but the essence of where I got the spirit from came from a bad place. I didn't want to be in this headspace, but this headspace helped me create the best album I've done in my life.
I have to ask about that because you're telling me you were in a dark place, but we also have some of your most up-beat and fun material. How does that work out?
Because sometimes while I'm in a dark place, I want to not talk about that – I want to uplift myself. I've always received feedback from the fans that these songs also uplift them. I always get feedback like, "When I'm feeling bad, I put that on," and that makes me feel good. I just talked about how I view things. Even my song, "Talk Up On It", I talk about how I holler at a girl. I think about those kind of things. It takes me out of that dark place for a minute. I can try to concentrate on something fun to give to the fans too.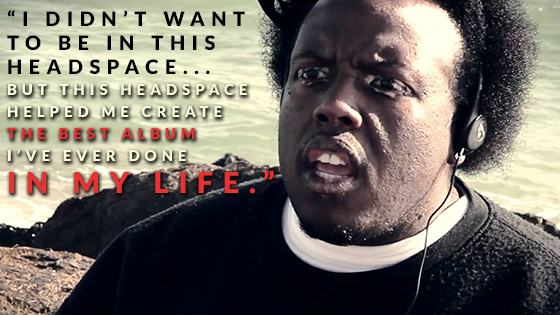 I think something that makes this album pop a lot, is a lot of the live instrumentation. How does that alter your creativity? Does it change the way you think about approaching a song or album?
Yeah man, because for every Seven, Fire, or J-White, whoever I got my beats from, they'll give me a beat, I'll write the song. With Seven and I, I'll come up with a beat like "Spaz". I'll describe the beat and he'll make it. On this one, we both decided that we wanted live instrumentation, so we got a horn section. We got drummers to come in. We got Korey Lloyd to play on there. I got Lucas Parker to come and play guitar. I got Jason Betts, the bass player in my band. I hired Todd Wilginson to play sax. I hired Steve Lambert to come and bring his whole ensemble to play on it, and then Seven played keys and guitar on it as well. I had all of these dudes come play different instruments. It came together so well. I don't think I could ever go back. That's really where I came from, you know? I came out the church. So live instruments is part of the gig. I've always loved it and I've always been waiting for music to get to a place where I could try this. I take chances. Strange Music, Travis, and Tech have allowed me to do whatever I want to do. This one turned out the best ever.
Can you still surprise yourself?
Man, I listen to my album right now, and it doesn't feel like me. It doesn't feel like it's something I can possibly do. I have no idea how to do that – I have no idea how to make those kind of songs, but it works. For some reason, we make it happen.
So why is the album titled, GO?
Tech named it that. It stands for God's Order. He said, "I feel like God, if you believe in God, has ordered me to be this musician."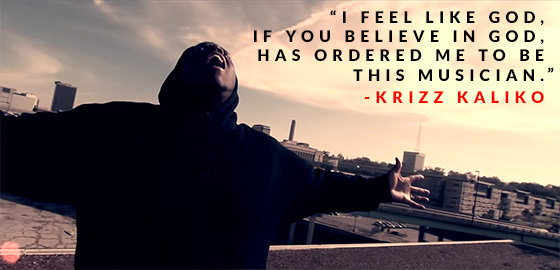 When my mom was trying to teach me how to sing, I didn't want to. She would teach me all of these harmonies. I was like, "Oh my God, stop. I don't want to learn this." It turned into this thing here. My mom gave me this gift, along with the universe, along with God. They gave me this gift. I would have stopped otherwise – I would have stopped as a kid. Because of them I always danced, rapped, and sang. It's God's order. As she said on my intro, "Obey." I'm obeying. Plus, it's a forward movement. Everything Strange Music is doing, everything is forward thinking. If you look at the album cover, it looks like it has motion in it.
What made you decide to sing more on this album?
Travis told me to do that, man. Travis told me along time ago, "I enjoy the songs that you sing on more," continuing, "If you think about the songs that the fans love the most from you, are 'Hello Walls' and 'Unstable'." I rapped on "Unstable", but they don't know my verses because of the speed, but they know it's (singing) "Unstable!"
I talked at a music conference this weekend and said, you have to write hooks that the world can sing with you. I feel like that kind of stuff catches on. That's why Fetty Wap is so big. Everybody can sing the melody (sings "Trap Queen"). Everybody can sing with him. Everybody can sing "Caribou Lou". They can't tell me what our verses say, probably.
Singing just felt better. I can't abandon the people that love to hear me rap, so I rapped on a few, but I'd say 85% of this album is singing. I think I found my voice. I do lots of different genres and vocal textures, but I think I found my gritty speaking voice the best. I think people are going to love it.
You almost sound like a new artist.
I feel like a new artist. I feel like I've found a whole new way to present myself, musically. When you hear it, you're gonna know like, "Oh, that's what he was talking about." I feel like I am finally that bridge-the-gap artist. There's a bunch of songs that sound like this, this, and this, but there's only one person that sounds like Adele, there's only one person that sounds like Tech N9ne, there's only one person that sounds like John Legend, you know what I'm saying? I feel like that's the kind of artist I became on this album.
What kind of features do you have on the album?
Only Strange Music at the moment. We tried to reach out to some other major artists, but kind of ran out of time. I've got Tech, Wrekonize, Rittz, CES Cru, Stevie Stone, and JL, the newest addition.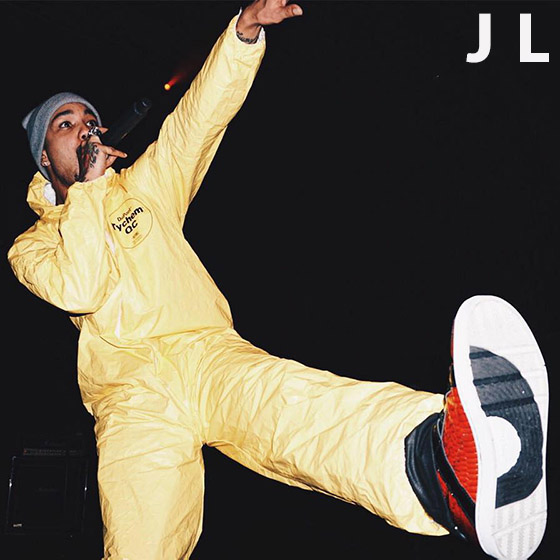 Really, I love having my Strange family on here – that's great. I would love to have some other superstars on there, but – this is gonna sound cocky, I don't really need any features. I wanted them, I love to collaborate, but I feel like I can make an entertaining album by myself. Every song feels different, but I didn't go to as many genres as I normally do. I did it just a little bit more streamline. Dude, It feels great.
Do you have some standout moments from the record? Any favorites?
It's probably not the biggest song on the album, but my favorite song is called, "Big F U". It's so soulful feeling. It doesn't even feel like I'm gonna say F you on this song. You know (sings song), it feels really soulful. I don't mean to sing like this, but I feel this shit 100%.
How do you think the fans are going to respond to this record?
I think they're gonna love it. You know, you're gonna to have the trolls, but I think they're gonna love it. I think the core fans are gonna love it and I think that they will love that we are inviting more people to become core fans.
Do you think the fans want you guys to grow, or do you think they want you to stay the same?
It's split. Some fans want us to grow, and some want to keep us in their pocket, because they are the ones that told their friends, "Hey, have you heard of Tech N9ne and Krizz Kaliko?" We're still the same artists. Us being on the radio means that everybody else knows what you know about us. So, you can't be mad at that.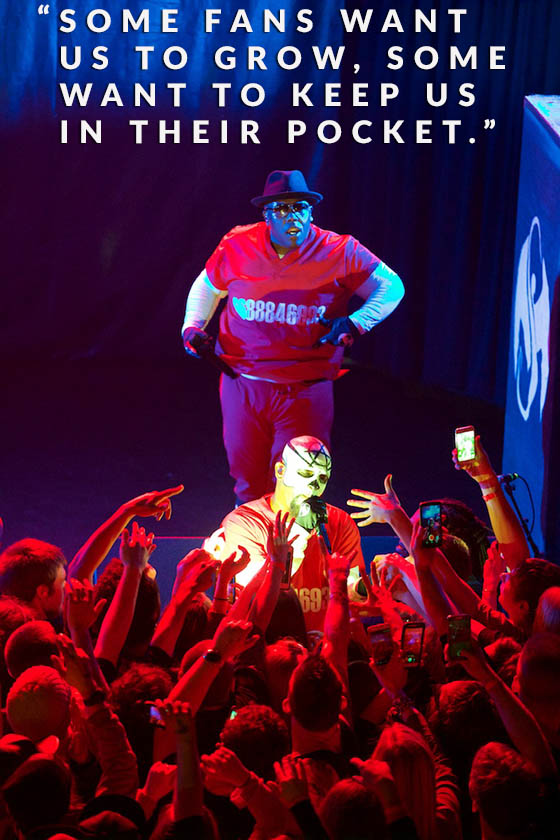 What do you think people will be the most surprised by after hearing this album?
That the music sounds so different. There's probably only two songs that sound like Krizz Kaliko song. "No No's" and "More" are probably going to be the most familiar. Everything else sounds like nothing I've ever done. There's not one specific thing I can say, "This is going to surprise them." Every thing on the album is gonna be like, "I've never heard him do something like that." You can turn the music on and will be surprised. If you've ever heard anything I've done, you're gonna love it. I know it.
What are you hoping that this album does for you and your career?
That it takes me around the world even more, even more than I've done with Tech. This is something that can compete with anything that's on the radio, as well as anything that's underground. This has to be heard. The world needs this. I don't mean to be cocky, but this is a fresh drink of water. I've said that before, but I try to keep doing that with every release.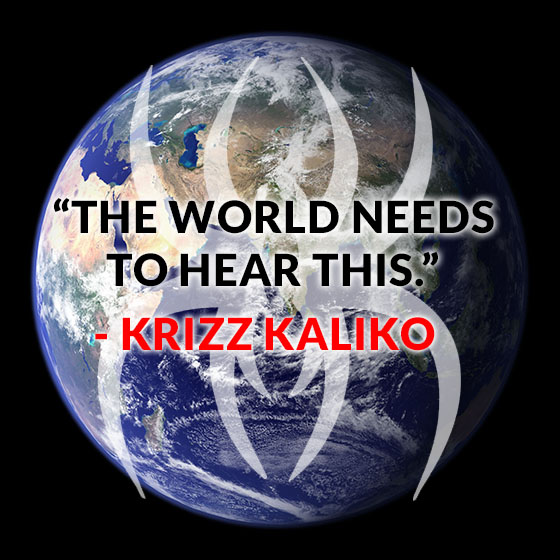 Is there anything else you'd like to say about the album before we get out of here?
It's GO time for Krizz Kaliko. When I give this to the world, I think the feelings that I have about it will be reciprocated. So, that's what I have to say to everyone: "GO." You want to do something? Go. That's what this album will encourage people to do, get up and go.
What are you looking forward to the most from GO?
Let us know in the comments section below!
CLICK HERE TO PRE-ORDER GO