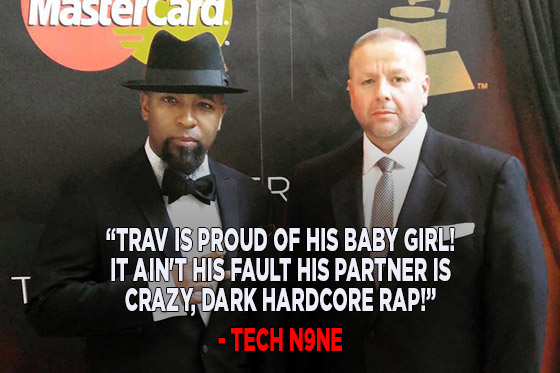 Musical tastes differ from person to person. Someone who absolutely loved when Tech N9ne and Corey Taylor did "Wither" may pass on "Hood Go Crazy", or vice versa. Tech knows this. So what do you do with artists that don't quite fit the mold of hardcore rap? No one knows that answer better than Tech N9ne himself.
Tech got to where he is today because he didn't fit the mold that record labels wanted to put on him. He could not be categorized.
"Knowing that we would have to start all the way over with a new label and not use the power of the name Strange would be stupid in my eyes. So to the fans who feel like Strange is going soft or changing for the worst and talking shit about the label is falling and you don't wanna listen anymore and you batter Tech N9ne and Trav about how THIS ain't Strange and THAT ain't Strange…Trav is proud of his baby girl! It ain't his fault his partner is crazy, dark hardcore rap!"
He knows that some of the music Strange puts out isn't for the fans of the dark, hardcore rap. Instead of creating an entirely new label, Tech and Travis decided to continue building the empire that is Strange Music, proving that Strange Music knows no boundaries and can cross over into any genre.
See Tech N9ne's full Instagram post below:
What do you think of Strange Music crossing into other genres?
Let us know in the comments below.
CLICK HERE TO PRE-ORDER
THE BRILLIANT EP ON iTUNES