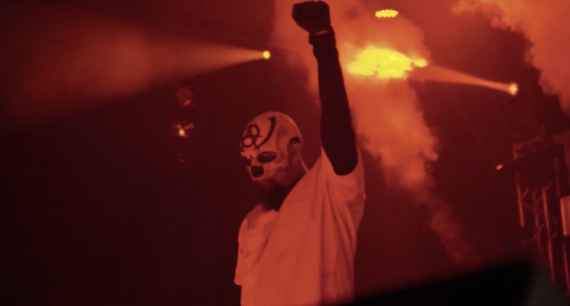 As a longtime fan, I was more than familiar with Strange Music's reputation for an insane live show, I already knew that each and every artists takes pride in putting on a great show for the passionate fans, I already knew what happens when "Areolas" comes on.
But there's knowing something and then there is experiencing it.
It wasn't until the Strictly Strange Tour hit the Fillmore in Denver that I got to experience a Strange Music show the way it's meant to be experienced.
Before the doors opened the Strange Music take over was in full effect! Arriving at the venue before the meet and greet, fans were already lined up around the block, shouting, chanting, and partying. Even in the bars, restaurants, and, of course, the dispensaries around the venue you could see the Snake & Bat everywhere.

It was an event before the show started, but when the lights went down and the sold out crowd began to cheer it reached a whole other level. At other shows, the openers are faced with a half-packed venue and apathetic fans, but not the Strictly Strange Tour 17. Not Technicians.
From Mackenzie Nicole killin' it with a medley of her Tech N9ne collaborations, to Ces Cru breaking out new tunes from Catastrophic Event Specialists, to Tech unveiling his video-infused stage show, fans matched the energy of whoever was on stage, making it an unforgettable experience.
Though you have to be there, surrounded by thousands of passionate Technicians, bass rattling your rib cage, to truly feel the magic of a Strange Music party, this recap of the sold out Fillmore show at the is as close as you will get.
Thank you Denver!
CLICK HERE FOR TICKETS & VIP PACKAGES TO
THE STRICTLY STRANGE TOUR 2017!