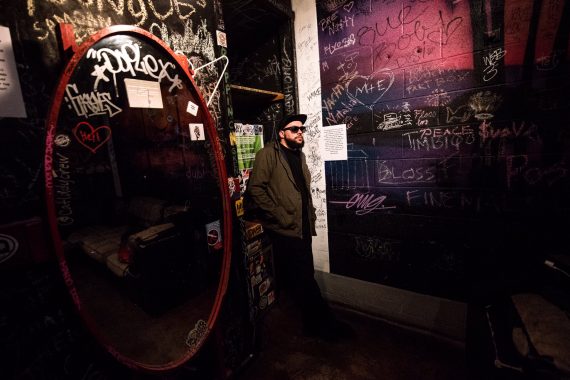 Photo:Sam Lewis
Being too obsessed with music, I'm constantly wondering what is going through an artists mind.
When it comes to an album getting released though, I'm so consumed with my album experience–getting the album, putting on my fancy, studio headphones, turning my phone off, and diving into uncharted waters–I've never really thought about what it's like for the artist.
Until now.
Maybe it was getting to talk with him extensively about the album, or the fact that it came out while he was on tour…on his birthday…on Cinco De Mayo, but as I was awaiting the release of Into The Further all day Thursday, I kept thinking about what was going on in Wrekonize's brain.What he was doing and thinking as the album was making it's way across the world and into awaiting ears.
Always one to obsess over the very random music-related synapses that fire in my brain, I imposed on Wrekonize to keep a log of what he was doing and how he was feeling throughout the release day of Into The Further.
Despite being insanely busy, Wrek, one of the most upfront and honest artists you will find, was more than happy to keep a log of his thoughts, feelings, and actions, providing a fascinating look into one of the busiest days an artist will face.
May 4th:
1:00 PM: Starting to see people getting their pre-orders a day early. Here comes the feedback. The anxiety of sitting on something for so long is almost over.
9:30 PM: Great show in St. Petersburg. Had my mom, sister, and brother in the crowd. Already spoke to some people in the crowd that have heard the album once over. Getting good feedback so far.
May 5th:
12:15 AM: Album just went live on the streams. Heeeere we go.
2:00 AM: I always find it hard to sleep on release day. It's like Christmas Day. That uncertainty of how people are going to react to something so personal to you is nerve-wracking.
Oh yeah it's also my birthday. So focused on the album I almost forgot. I need sleep. Tomorrow gonna be a long day.
8:30 AM: I wake up like I just woke up from a nightmare. So jolted I almost forget why I was sleeping so uneasy. The album has now been out for almost 8 hours. More than enough time to get a good pool of initial feedback. Also, the buses pulled in to Ft. Lauderdale for the show tonight so I can go home and reset my clock before meet and greet.
9:45 AM: It took me an hour to get back to Miami so I'm working with very little time to recharge before meet and greet. I find it funny how music critics normally say our albums are too long and fans say they aren't long enough. Nevertheless the feedback so far is very positive. Cracked the top 10 on iTunes. A lot of competition out there this time around so I'm happy to even reach that high.
4:15 PM: It's so hard to focus on meet and greet and the show when the album is out there making the initial rounds. Takes some real Jedi master shit to block the world out and concentrate on what's in front of me.
May 6th:
1:00 AM: The digital version of the album has been out for 24 hours and the response so far seems great. I'm very happy with it. Records that I thought would be sleepers or just for me like "Through The Rain" are getting more mentions that I expected. Gonna be a long week but the opening day has been very positive.
This little experiment has definitely changed how I view an album's release day. It used to be an experience all about me, but now, thanks to Wrek, I'll always be conscious of what the artists is doing, and, most importantly, feeling.
Wrek's text's also made me realize that the artist album release experience isn't really a finite, open and closed event. All of that work, all of those thoughts and emotions, in just a few hours, and, still, Wrekonize's own Into The Further experience is still just beginning to take shape.
It may be finish line for fans–we finally get what we have been waiting for– but for the artist it's just the start of a marathon.
CLICK HERE TO PURCHASE INTO THE FURTHER ON iTUNES NOW!