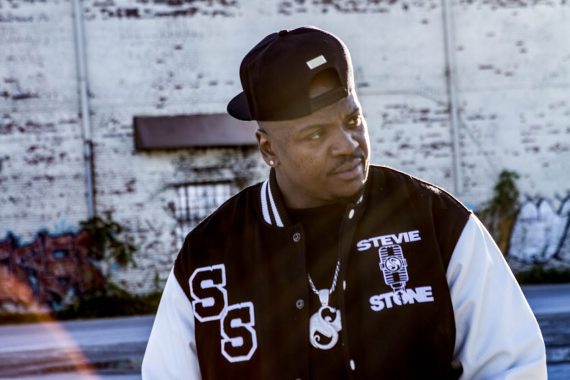 "Go West, young man"– Horace Greely in 1865 or recording artist in 2017?
Though hip-hop was born in New York, though Atlanta has the "in" sound, Los Angeles is the epicenter of hip-hop due to the sheer number of artist who reside there.
With merch printing, recording studios, and a state of the art video stage, the Strange Music machine operates on it's own terms, never needing to cater to industry norms, and if it weren't for touring, Snake & Bat artists, wouldn't have to leave Missouri to get the job done.
Wouldn't have to…
That being said, whether in search of gold or creativity, a trip out West can do wonders for an artist; Look at Stevie Stone.
It's been well-documented what Stevie Stone's Level Up title means— a reference to Stevie's creative rejuvenation–but just as important, is what caused it. For Stevie, it took a trip out of Strange Music to create his best Strange Music project to date.
Did you go into this album with a set vision for what you wanted to create? 

My last album, Malta Blend, was a serious album, so this one, I just wanted to come in and have fun, so I just started doing records.

Whats that like? Just starting an album with out a set plan. When and how did you "start"?

We started in L.A. and ended up working with Scott Storch, Dem Jointz, and a bunch of different producers and writers out there. It inspired me on a whole different level. It really set the tone for the album.
What did you learn from working with new artists? What ways did they inspire you?

I saw that a lot of people didn't write. They go up there and feel what they gonna do then they go in the booth and mumble it then they replace it with the lyrics. It was real dope peepin' that.

I've done it before but not to the point of going into the booth, so it was dope to see how different artists work.

How is recording in L.A. different from recording back home?

Different atmosphere. When you are sitting in the room full of people, you get a different vibe, then boom, I'm just goin' in.

What does the new setting do for you as an artist?

I think that me going out of my comfort zone and going somewhere else and being out does something for me subconsciously. It was a breath of fresh air to get out of the norm.

It's my second time I've done it. Every time I do it, it helps me not be complacent. It helps me get on track.

That's something I want to continue to do when I start an album, get out of Missouri get somewhere else, hibernate, and let the music and the vibe kick in and go.

Ain't nothing gonna change, I'm always reppin' Missouri, but it's different vibes, feels, and swings. You got to get out and travel and work with different people to grow.
CLICK HERE TO PRE-ORDER LEVEL UP NOW!