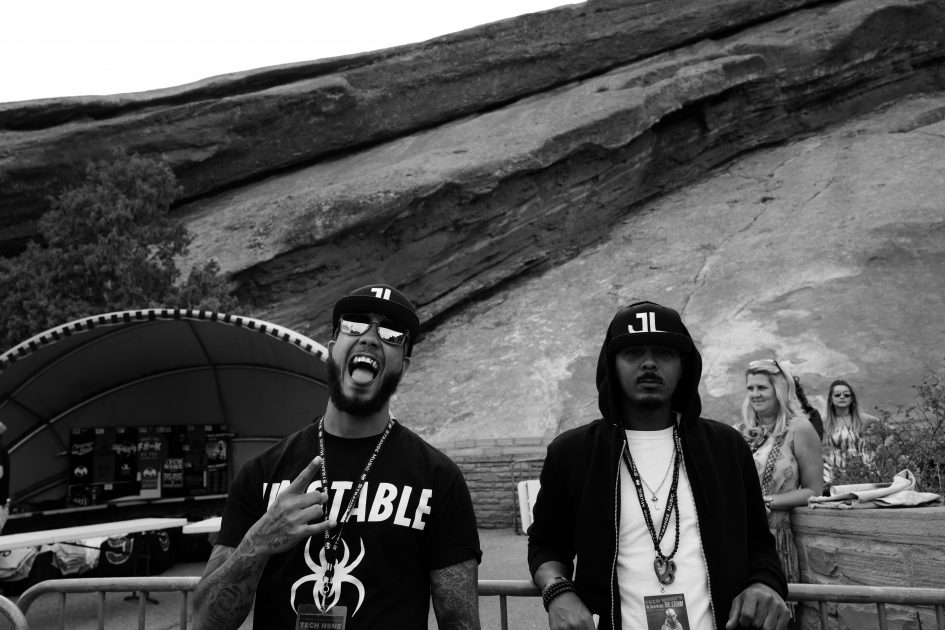 Co-workers can be your friends, but it isn't very often you get to work with someone you were friends with before work.
It may not be the grinding night shift or livin' in a cubicle, but that's (sorta) what it's like for two of Stange Music's newer faces; JL and Joey Cool.
After releasing his Strange debut album DIBKIS, JL went on to perform at Red Rocks where he saw his close friend and longtime collaborator, Joey Cool receive his Strange chain, officially making him part of the Strange family.
Now, it's Joey's turn to breakout, and it starts with Tech N9ne's Planet Tour, where Joey will be hitting each and every stage to show fans that he's more than worthy of reppin' the Snake & Bat.
While some fans may not know him quite yet, JL certainly does (duh) so we grabbed him for an interview to talk about Joey, their relationship, and what to expect moving forward.
 When did you guys originally meet?
It was early on- like ten years ago–performing around Kansas City. We did a show together randomly and I saw him perform and I was like "I gotta mess with this dude."

I walked right up to him and was like "we gotta link." Real shortly after that he came over to the crib, and we knocked out our first track. It was called "My Love" talking about our love for hip-hop.
I know you guys are friends, not just collaborators. 
We started working first before we became friends. So the friendship came along as we were working and just became a longevity thing.
Any crazy stories? 
Oh, probably way too many to tell [laughs]. I wasn't prepared for that one. Yeah, we've been through some crazy stuff together, from being on tour to just crazy nights at local bars…Riot Room Nights…all kinds of stuff.
How many songs do you think you guys have together? 
I'm always in the studio with him. Definitely more songs than I can count. Off the top of my head, it's 30 plus songs we've probably done together.
What stands out to you about Joey as an emcee?
He's an original artist. I've never heard anybody like him, his voice, his realness in his music, you know, I listen to his music I know it's him. Dope writer, dope performer.

What's it like working with him?
Steel sharpens steel you know what I mean? So us working together, I have to stay on my toes, I have to stay on top of my game. If I'm messing with Joey I know it's his A-game at all time, so it makes me you have to be on my shit.
What's the biggest lesson you've learned from him? 
I learned, you know, to not have such a filter. That's somebody that's really close to me that I do music with and wanted to influence me on losing that filter. I constantly have to force myself to remove my filter.
On stage, you guys have a great chemistry as well.
Two can put ten thousand to flight. That added energy with someone who is that good being on stage with you is a major thing. It's crazy, he can catch me. He can follow me, he doesn't get lost in my raps and vice versa for him, you know?

I think just being strong solo artists–whether I'm backing him up or he's backing me up–it just works really well.
As friends and collaborators, what was it like seeing him get signed?
It's exciting man! It's rare that friends get signed to the same label and have this opportunity together.
I know you both have been busy working. Have you been talking and bouncing ideas off each other? Whats that like? 
Oh yeah, we talk all the time, we worked on a few records for his joint. Also I was finding beats in the beginning that I really thought he would work well on and I know he ended up using some of those so that was cool.

To be able to sit back and watch him go through the process though and get his thoughts out and do it the way he wants to do. It's dope to see.
So you've heard his new stuff? 
I've heard most of it and it's fucking amazing man. He's stepped up to the plate and knocked it out of the park. He impressed me, he showed me why I always fucked with him.
Can we expect to see you on any of his tracks?
Yeah I'm gonna be on that. I'm not sure what's going to make the album because he's doing a lot of music, you know.

That's also why we wanted to make sure we got a few in because when it comes down to picking a song for your album I know some hit the chopping block. Not because they aren't good but just because you are making an album sound a certain way.
What's something people who don't know him as well as you do might not know about him? 
He's a live wire. He seems so cool and his name is Joey Cool–and he is very cool all the time–but he can turn up.
While we wait for Joey to unleash his new music, be sure to catch him on Tech N9ne's Planet Tour starting this Spring!
CLICK HERE TO PURCHASE VIP PACKAGES TO TECH N9NE's PLANET TOUR 2018