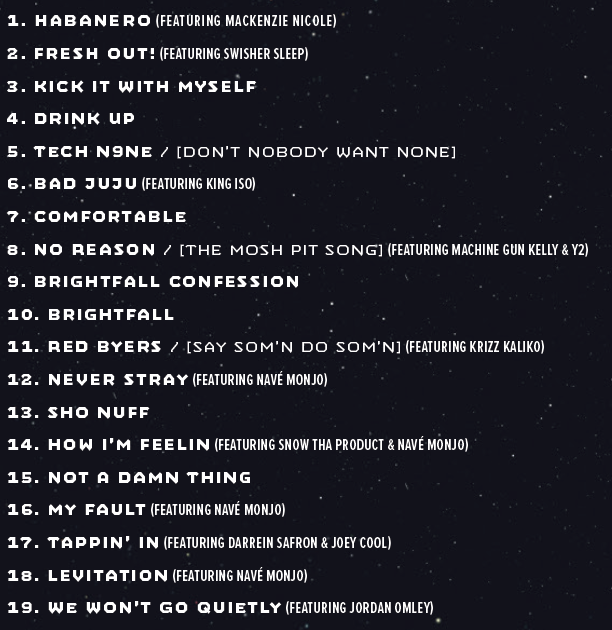 On March 2nd Tech N9ne will unveil his new Planet to the world.
Though he has built it from scratch with his own two hands, he wasn't without out help. There are some other people who you will encounter when you visit Planet PYUNE.
To help you get acquainted with some new faces, and preview some faces you probably already know, we broke down every feature on Planet.
We're sure you already know Mackenzie, who has been appearing on Tech albums since the age of
nine
N9ne.  On
Planet
, she appears on the first cut, "Habanero." This appearance marks the first time she curses during a song. F*#k yeah!
Swisher Sleep
His first appearance on a Strange track–providing a fleet 16 on "Fresh Out" Swisher Sleep may be a new name to some Strange fans–but the NorthWest chopper has been on Tech's radar for a minute. Here Tech is surprising him on stage last spring.
King Iso
Though this is King Iso's first official track with Strange, it feels like he's been around for a while. Perhaps because the preview for "Bad JuJu" capped off
Strange Reign
, he's been doing a few shows with Tech, and even 
surprised the N9ne at his birthday party
.  In addition to "Bad JuJu," King Iso is also heading out with Tech on the Planet Tour 2018!
Machine Gun Kelly is a former Tech N9ne tour alumn, joining the crew on the Hostile Takeover Tour way back in 2012. His experience rocking Strange crowds made him the perfect emcee to contribute a gritty verse for the mosh-pit ready "No Reason (The Mosh Pit Song)."
Y2

Joining Tech and Machine Gun Kelly on "No Reason," Y2 lays downs an interesting hook that gives the off-kilter (in a good way!) tack a little more slurred energy. He might be a new name to some of you, but its one you won't forget when his hook is Usain Bolt-ing through your mind.
A man who needs no introduction. It wouldn't be a Tech album without Krizz Kaliko laying down something amazing. He delivers yet again on "Red Byers (Say Som'n Do Som'n)" belting out a hook, like only Kali can.
Navé Monjo
The power of Navé Monjo's intoxicating vocals have already been shown on JL's catchy DIBKIS cut, "Risky".  Now, he will appear on four songs on Tech's album –"Never Stray," "How I'm Feelin,'" "My Fault," and "Levitation"– bringing some smooth R&B stylings to balance perfectly with Tech's razor sharp, emotionally charged approached on some of Planet's most emotional tracks.
The emcee who Tech called
"The dopest female emcee in the game"
 joins him again (after appearing on "So Dope") alongside Navé Monjo on "How I'm Feeling." An emcee with a unique style who can keep up with Tech 
and 
a singer with a knack for hooks, this track promises to be one of the most colorful, fun songs on the album.
Darrein's sole appearance on 
Planet
comes on a much different track than 
The Storm
's "Get Off Me." Where the latter cut was more fun and party-centric, "Tappin' In'" gives a platform to tell a personal, emotional story. Darrein shelves his swift flow, for a more R&B-centric crooning to hammer home the emotional vibe of the cut.
Joey Cool

After ending 2017 with being officially welcomed into the Strange Music, Joey Cool joins Tech and Darrein on "Tappin' In," implementing a more character/persona-driven approach to help bring to life Tech N9ne's narrative.
If you truly can't wait, we recommend peeping' "Cold Piece Of Work" or Joey's Tech N9ne assisted cut "Out There" for a taste of how the two emcee's attack a track together.  You will also see Joey "Tappin' In" onstage during Tech N9ne's Planet Tour 2018.
Jordan Omley

Jordan Omley of The Jam (along with his partner Michael Mani) are responsible for all the production on Mackenzie Nicole's debut album The Edge. Jordan did, however, link up with Tech for the penultimate track on Planet, the powerful "We Won't Go Quietly." In addition to co-producing the track, Jordan also layed down the hook. What a way to end the album…trust us.
CLICK HERE TO PRE-ORDER TECH N9NE'S PLANET