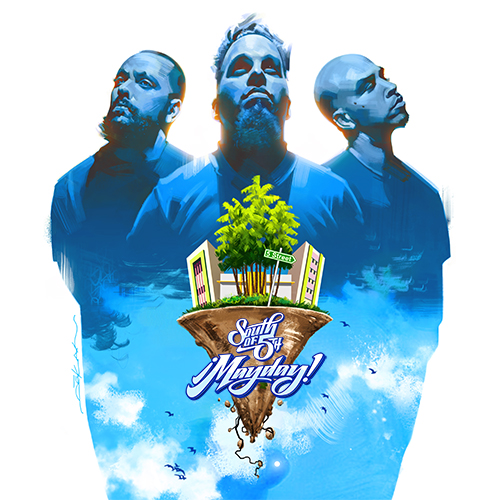 If it's happening in Miami, do you know where it's going down? South of 5th, that's where!
With a reggae-tinged vibe, the fellas in ¡MAYDAY! are once again immersing you in the sonic landscape of their city. ¡MAYDAY! is set to unleash their new album, South of 5th – available everywhere September 7th.
South of 5th brings the local party to the worldwide stage with sounds that are unmistakably ¡MAYDAY!.
With the double-edged interplay of lyricism from Bernz and Wrek, along with a new twist on the stellar production ¡MAYDAY! always brings to the table, South of 5th adds to the versatile legacy of the crew, with standout tracks like "Next To Go", "Lifetimes", "Run Up" and "Time Is Up".
Don't miss your chance to preorder your copy today at strangemusicinc.net – you'll receive an autographed copy of South of 5th, a limited edition South of 5th t-shirt (XL only), a Strange Music sticker and a bonus unreleased mp3 download track!
 Click here to pre-order ¡MAYDAY!'s South of 5th!