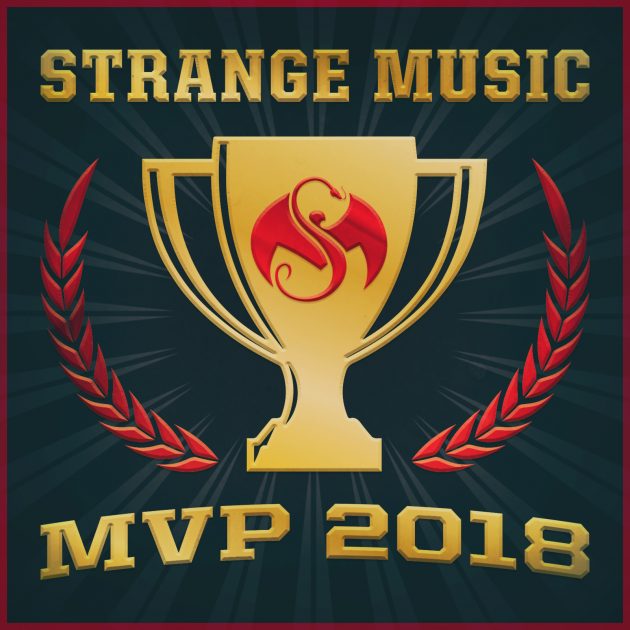 2018 was another big year for Strange Music.
In just twelve months, the Strange roster accounted for the release of seven amazing albums, hours of videos, and countless shows!
With so many great releases, it will be tough to choose the 2018 Strange Music MVP, but with great music comes great responsibility. It's your turn to vote for who took the crown this year.
To help you out, we've narrowed down the field to those who released music and summarized (some of) what each nominee has accomplished in 2018.
Now, it is up to you to see who deserves the crown. Here are your nominees for The Strange Music MVP of 2018…
Darrein Safron

Darrein spent 2018 weaving between his two musical personas, Darrein Safron and DarreinSTL. With both personas, Darrein dropped eight tracks that showcased his ability to effortlessly switch between (and combine) hip-hop and R&B; if that wasn't enough, he gave visual treatments to six of them!
Putting in steady work building his own library, Darrein made sure to take some time for his labelmates, providing Tech with some powerful vocals on "Tappin' In"  to help create one of the most powerful songs on Planet. Between shows, collabs, and building two sides of his artistry, Darrein had a hell of a year!
MURS
With the first album release of 2018, MURS started the year off with A Strange Journey Into the Unimaginable, his most personal, powerful album to date. With his vivid storytelling and unflinching honesty, the hip-hop legend opened up about struggles he went through and the obstacles he overcame in the two years prior. His willingness to bear his soul gives listeners who too, might be struggling, the strength to keep going, while still finding room for a laugh or two (see "Superhero Pool Party").
Produced in full by Michael "Seven" Summers, ASJITU also put the legendary producer in the spotlight, taking part in everything from the album's sound, cover, and even interviews, finally giving fans a rare glimpse at Strange's elusive, beatsmith.
All of this, of course in addition (and secondary) to, the birth of his son!
MURS has had an MVP caliber year, and after overcoming so much adversity, nobody deserves the award more.
Mackenzie Nicole
Though Mackenzie Nicole has been a Strange Music fixture her whole life, 2018 marked her arrival as a solo artist and ushered in a new era in Strange history. With the release of her debut album The Edge, the first release under Strange Main, Mackenzie placed the pop venture on her shoulders and carried it to new heights, showing that pop music does not have to sacrifice the quality and originality rooted in the fibers of Strange Music.
Though a new genre, Mackenzie is held to the same standard as any Snake & Bat emcee, having to take her music into a live setting. Again, Mackenzie took on the challenge with ease, dazzling crowds at Boulevardia, Fiddler's Green, Kansas City's Power & Light, and dozens of stops along Tech's Spring and Fall tours.
Speaking of Tech, Mackenzie can also be found on his Planet album, starting the album out with a fiery performance on  "Habanero."
All of this while working on new music, frequently contributing to Strange Music's Dash Radio station, Independent Grind, and making some muffins.
Stevie Stone
2018 marked Stevie's seven-year anniversary of being signed to Strange, and this year he (again) proved worthy of reppin' the Snake & Bat. After a busy 2017, Stevie didn't let off the gas, coming together with one of Strange's newer signees, JL, to release Kontra-Band. The joint album was unexpected but welcomed by Strange fans, showcasing his signature gritty sound which paired perfectly with JL.
In addition to Kontra-Band, Stevie was constantly on the road, including an appearance at the indie hip-hop festival, a Kontra-band tour with JL, and a run of his own to round out the year.
Ever the grinder, Stevie is already back in the studio, prepping for another year of being one of the most consistent artists on the roster!
JL
Collaboration was the names game for JL in 2018.
In addition to his aforementioned joint album with Stevie Stone, JL continued to show support for his labelmates providing them with powerful guest spots that took the respective tracks to the next level!
Most recently, JL appeared alongside King Iso on Tech's "Hit The Ground Running" matching pace with his fellow choppers. JL also appeared on Joey Cool's debut three times, officially welcoming his fellow KC native to the label with some passionate, fiery bars (see "Hard")!
All of this while hitting the road, playing the Flyover festival in Kansas City, and getting in a different kind of studio to flex his painting skills!
View this post on Instagram
Joey Cool
You might think getting signed is the end of the journey, but really it's just the beginning; that's when the real work begins. Nobody exemplifies that better than Joey Cool.
Determined to make his first year as a Strange artist count, Joey put in heavy, consistent work all year, starting with his self -titled debut album that hosted cuts like "Under Pressure" the perfect introduction to his surgical ability and confident swagger.
While most would be content to let one project sit, Joey opened up the next, dropping the first look into Old Habits Die Hard, with "C.W.D.B." With so much going on for him personally, including a run on Tech N9ne's Planet Tour and Ubi's Under Bad Influence tour, Joey still made sure to support his labelmates appearing on Tech's Planet, Stevie and JL's Kontra-Band. and Ubi's latest, "Bitty Betty." 
Plain in simple, Joey put in the work this year making him not only worthy of rocking the Snake & Bat chain, but worthy of donning the MVP title.
Big Scoob
Like MURS, Scoob has faced some serious adversity these past few years, but in 2018 he reemerged hungrier than ever delivering his first album since 2016. Despite the hiatus, Scoob didn't miss a step,  bringing his trademark authenticity that fans have come to expect but fusing it with modern styling, creating an album that is both signature and innovative.
Facing similar challenges, most rappers would stay down for the count, but someone as tough and battle-tested as Scoob not only overcame adversity, he thrived in 2018. If that isn't MVP worthy nothing is.
¡MAYDAY!
¡MAYDAY!'s 2018 started with them closing the book on Search Party with a video for their Tech assisted banger "Long Night", setting up one of the most adventurous albums in their impressive discography.
Never afraid to experiment with a new sound, ¡MAYDAY! took it to another level in 2018, proving they really can do it all with the release of a reggae album in  South Of 5th. Though they change genres like we change socks, even for them, a reggae album was a big leap, but yet again they delivered a truly remarkable album that was rooted in island-vibes but still had that ¡MAYDAY! flair. Despite the big change, ¡MAYDAY! knocked it out of the park, debuting as the number one reggae album in the country; a testament to their diversity, originality, and unmatched work ethic.
They could have stopped to celebrate with a few beers on the beach (in true reggae form), but almost immediately after, they hit the road extending summer well through the fall with a nationwide tour! Of course, never ones to pass up a party, the crew did throw a release party bash at Strange Hollywood before hitting the road, but when you have the #1 album, it's only right to celebrate!
Above Waves
Above Waves kicked off the year with a sci-fi inspired video for "Closer" in February, and after much anticipation followed it up with their first official project release under Strange Music with Fugitives Vol. 1.  With the diverse effort, Above Waves showcased their range with four unique cuts that were all equally replayable. After much anticipation, Above Waves both met expectations and got fans even more excited for what's to come. Sprinkle in some shows, and Above Waves has had a busy year!
Ubi
Ubi has been on a tear in the back half of 2018, squeezing in a year full of highlights in a matter of months and becoming a strong contender for MVP.
He set off the year assisting Joey Cool on his debut (see "Stranger Things" and "One, Two") before setting his sights on the Under Bad influence collection, determined to start his first solo Strange venture out with a bang, releasing six songs, and two music videos in two months! Oh, by the way, sandwiched between the two sets of releases a North American Tour. Yeah… Ubi's been working.
Though the release format may have changed, though he's now rapping solo,  UBI's approach and attitude have remained entrenched in the traditions of hip-hop, peppering beats with a razor sharp flow, and as always, thoughtful, complex lyricism.
What a year it's been! Thanks for making it another great one! Now it's time to make your voice heard and vote for the 2018 Strange Music MVP!
Don't wait! Voting ends December 31st at 1 PM CST