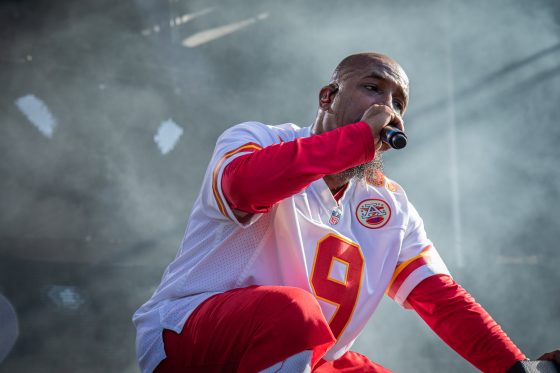 Tech N9ne has been wearing his signature T. N9na jersey on tour in Canada, Europe, and the United States this year, and now that his tour is wrapped up, Tech wanted to do something special… give it away to one lucky fan!
It was Christian Morrison's birthday yesterday and to celebrate, he hit up one of the last shows of the It Goes Up tour. A Tech N9ne show is a proper celebration in its own right, but Morrison even met with Tech before the show in the VIP meet and greet. Christian gave him his story and during the show, Tech shouted him out in the middle of his set, brought him on stage, and they performed Worldwide Choppers together! The birthday festivities weren't done! Afterward, Tech gifted Christian his custom jersey! Tech even hopped into his Instagram comments to give him some tips on taking care of the jersey, and, naturally, after touring the world with the jersey, rocking stage after stage, included tips on washing it!
You never know what your gonna get at a Tech N9ne concert! Happy Birthday Christian!
SHARE YOUR STRANGE FANDOM WITH US
FANS@STRANGEMUSICINC.COM