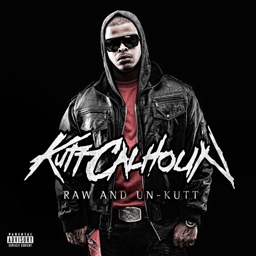 Kutt Calhoun gives party people the world over a reason to dance (and perhaps a little more) with his latest single 'Naked'. The sexed-up music video for the first single from Kutt's upcoming album Raw & Un-Kutt
made its debut on the website for XXL magazine, XXLmag.com. The video has been up for a day and is already causing a splash, generating more comments than any other post in the "Bangers" section this month except for Drake song that features Jay-Z.
The music video certainly does justice to the flesh-and-party anthem. Kutt and his posse–which includes Tech N9ne, Krizz Kaliko, Big Scoob, and Strange Music Project Coordinator Korey Lloyd–walk into an abandoned building in the middle of nowhere. "This doesn't look…right" worries Tech. Kutt assures everyone that this is the spot. Korey claps his hands, and then it's on: strippers appear and shake their tail while Kutt spits nudity-friendly rhymes in his musical flow. Makzilla makes a cameo appearnace early in the video as a "talent agent" so to speak. Tech N9ne is featured in the song and contributes the middle verse and so is Krizz Kaliko who provides his usual Genius on the hook. The party moves from the building, to the tour bus, and finally ends up at the strip club aptly called "The Boom Boom Room." Looks like the Bunk Rock King has a new hit on his hands that is going to get everyone in the right mood for the summer. Click here or watch below to view the proceedings.