The Strange Days Tour finished its tenure in Montana with a stop in Missoula. The anticipation for the show was met with the usual dose of kick-ass performances from the artists. The show was awesome and the VIP meet-and-greet was all love. Afterwards, the Strange posse stopped at a campsite in Montana to grill and just kick it. Cognito, a big city native, was wowed by white water rafters, taking a pic and sending it out on his Twitter. Between the hustle and bustle of non-stop touring, the Strange crew enjoyed a little good old-fashioned rest and relaxation in the country.
Here's a video we found from Missoula of Lynch doing some of the songs in his set, including "Sit In That Corner B**ch" and "Colostomy Bag" from Dinner And A Movie.
Here are some pics that we have gathered so far from the tour: all your favorite artists throwing down on the road the only way Strange knows how to do it.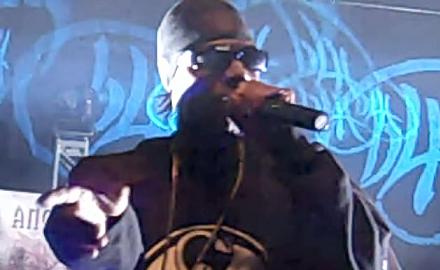 Make sure you catch Tech N9ne, Brotha Lynch Hung, Kutt Calhoun, Krizz Kaliko, Big Scoob, Prozak, and Cognito coming to a town near you for the Strange Days Tour!