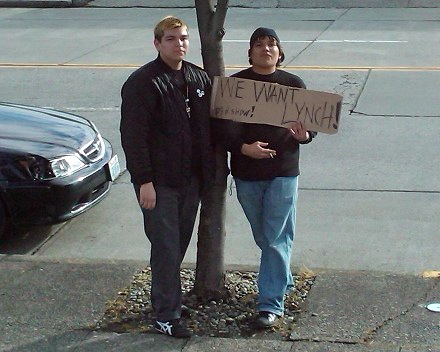 For the final stop in the Washington leg of the Strange Days Tour, the crew stopped in Seattle to do two shows. Seattle is where the state of Washington's love for Strange Music hits its peak, as evidenced by all the hype and anticipation surrounding the show: fans posting pictures of their tickets weeks in advance, fans waiting outside in the morning with signs ("We Want Lynch"), and lines stretching outside the venue. The first show was at the Skybox SoDo (south of downtown) which sold out to the capacity of 17,000 people. This was one to be remembered as the enthusiasm ran rampant from the artists to the audience. One fan even thought the show was too rowdy and another thought there was so many people in there that he should start passing out deodorant. Hopefully the fans were cleansed from all the water Kutt was launching into the audience.
The second night was a more intimate venue for fans that could fit into the 400-person-capacity Crocodile Club. As one could imagine, this show was quickly sold out but fans who were lucky enough to score a seat were treated to an unforgettable show. Strange leaves Seattle victorious and heads southward to Portland.
Make sure you catch Tech N9ne, Brotha Lynch Hung, Kutt Calhoun, Krizz Kaliko, Big Scoob, Prozak, and Cognito coming to a town near you for the Strange Days Tour!