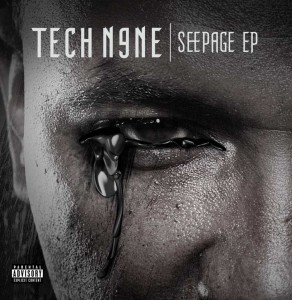 It's been awhile since Tech has delved in the darkness. Since The Gates Mixed Plate, accusations have come from many fronts of Tech turning soft. With the Seepage EP, Tech has quickly dispelled those rumors and the fans have taken notice. Here are some of the comments that we've gathered from Facebook, Twitter, and therealtechn9ne.com. Stay tuned tomorrow for an EXCLUSIVE Strange Music Blog interview done with Tech N9ne in which he talks about the Seepage EP and the fan response. Click here to purchase your copy of Seepage on iTunes.
"Just finished listenin' to @TechN9ne Seepage. This is real hip-hop & if you disagree, fuck you & everything you stand for."
"the pain makes for great music….. you write some killer when your down and dark or pissed. im diggin seepage, but i still blast Anghellic daily"
"Only @TechN9ne could use the word sphincter in a song and still sound hard."
"this new @techn9ne is a bangin' halloween EP. buy, steal or mug an 8 year old, its worth it."
"seepage ep goes so fukn hard, perfect for halloween!! Yall niggaz go kopp it!!Tech i'm praying 4 u n ur mom! Be well."
"I think the new EP is sick. Some of the verses are the sickest tech has ever spit. I like seepage and asshole the best so far."
"Sounds sort of different than his old stuff. In terms of the beats. That's what I love about Tech's music, there aren't two songs that sound alike each other. Seepage (the song) is my favorite. You could definitely hear more emotion in this EP, than TGMP. The ninna is hungry."
"I love it; its the shit i been waiting for; i wish he would make more music like this; id buy all of it"
"Amazing. It had me drowning in darkness and depression and had me wanting more."
"I now believe in kod haha shit I love seepage, alucard and bite me the most. Fuck listening to this album brings out the intense darkness. Does anyone have a way to get the instrumentals cause those are some of the best beats ive ever heard."
"I'm loving these EPs that are coming out. I think more of the artists on Strange should do shit like this."
"Trippin Comin is the best Tech song Ive heard in years."
"i thought lost scripts was better..but to me Alucard tops all those songs on lost scripts"
What do you think of Seepage?