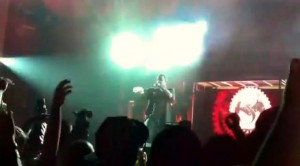 SPOILER ALERT: For those who have tickets to an upcoming Independent Grind Tour date, the following clip should be avoided. Here's a clip we pulled from YouTube taken by a fan of Tech N9ne's entrance on the Independent Grind Tour at The Grove show in Anaheim, California. This is one of Tech's most stunning entrances yet.
We'll spare you from too many details but if you want to check out what you've been missing or what you've already seen, then click here or watch below:
How do you think this compares to some of the other entrances you've seen from Tech N9ne?