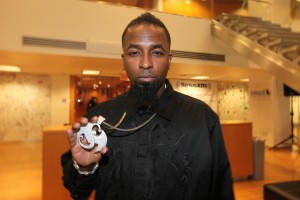 Tech N9ne's upcoming Bad Season mixtape just got another push with the premiere of the Dr. Dre-produced "Hard Liquor" featuring Krizz Kaliko on the hook and Blink 182 drummer Travis Barker on the drums. Over a signature Dr. Dre piano lick, Tech N9ne raps about the highs and lows of hard liquor, also citing popular hotspots around Kansas City (Westport, Power and Light) where he likes to get his drink on.
Click here or listen below (song starts around 4:20) to hear "Hard Liquor".
How do you think this song ranks with Strange Music's other drinking anthems: "Salue", "Caribou Lou", and "KC Tea"?