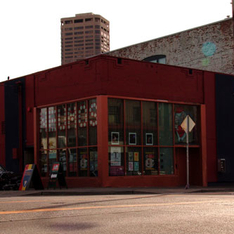 Krizz Kaliko made a pit stop last night at a swanky club called Neumo's located at 925 E Pike St in Seattle, WA. The club was a breath of fresh air. I was very impressed with the laid back atmosphere and 50's style couches to sit on. There was also old arcade style games, some of which provided free continuous play. The club had a great bar atmosphere with leather couches and a brick back lay. The medium size square stage let people go right up to the front and be personable with the artists while they performed.
Performances tonight included DJ Chill official Strange Music DJ, Tragedy 503, Knothead, seattle favorite Neema, Jay Barz and of course Krizz Kaliko and Irv Da Phenom. Tragedy 503 tore up the stage with favorites like "Fuck 'Em All", "Darkside of the Womb", "Valentine Song", and "Why So Serious" and Knothead brought on the heat with "Spokane to Hadlock" and "Foot Steps". Neema is always a treat to see with his fresh lyrics and real world view. DJ Chill is a big crowd pleaser and a Portland favorite as well. The crowd loved his party laid back party vibe. We were all ready, tipsy, and filled with antici…….pation by the time that Krizz took the stage.
Krizz Kaliko and Irv Da Phenom took the stage by storm playing much loved tracks like "Elevator", "Anxiety", my personal fav "City 2 City", and many more. Irv was a Phenom, as his name states, and I was in love with their white pants and shirts with matching black tie. The crowd was begging for more and the set showed that Krizz has obtained exeperience under his belt, as well as, a lively fan base. I can only imagine what awaits in our next stop in Olympia. Till tomorrow people and much love from our camp to yours!
– Strange Music Blog Contributor, Terra Buchanan