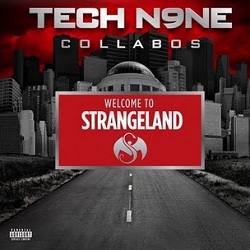 "The Noose" featuring ¡MAYDAY! lit up the Strange Music world, as fans everywhere were caught by surprise when the track was leaked online.
The latest track to leak from Welcome To Strangeland, "The Noose" takes on the issues facing many men and women serving in the military. Suicide, hopelessness, and an overwhelming fear highlight the atmosphere of this dark yet heartfelt tribute. Tech recently spoke on the subject matter in a revealing interview with HipHopDX.com. With all of the buzz surrounding the release, fans loaded Twitter with their take on the track. Touched and in some cases shocked by "The Noose", fans let Tech N9ne and ¡MAYDAY! know that they fully supported the message.
Follow Tech N9ne on his official Twitter page.

Click here to pre-order Welcome To Strangeland.
What did you think of "The Noose"? Were you offended by it? Let us know in the comments below!