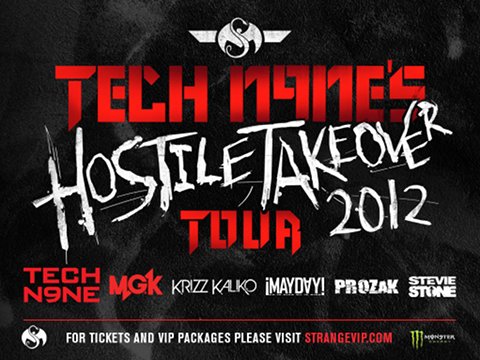 The No. 1 Independent Rapper In The World Announces Tour With Machine Gun Kelly (MGK), Krizz Kaliko And Others Scheduled For 90 Shows In 99 Days, Making It The Longest Rap Tour Of All Time
January 18, 2012
(Los Angeles, CA) Independent rap superstar Tech N9ne is scheduled to make history and shatter records in 2012. The Strange Music maven is slated to headline the "Hostile Takeover 2012" Tour, which will launch in March and includes 90 shows in 99 days, making it the longest tour in rap history. It will make stops in New York City, Los Angeles, Chicago, Houston, Atlanta, Dallas, San Francisco, Las Vegas, Baltimore, Denver and Seattle, among other cities.
"I started planting the seeds for this music thing to expand more than 10 years ago and to see it be recognized globally like this is a beautiful thing," says Tech N9ne, who will be joined on "Hostile Takeover 2012" Tour by Machine Gun Kelly (MGK), Krizz Kaliko, Mayday, Prozak and Stevie Stone. "We started Strange Music so we could make the music we wanted to make and tour like we wanted to tour. Now, to be able to make history like this is a wonderful accomplishment." The Hostile Takeover 2012 Tour will be the only domestic tour of 2012 where fans can see Tech N9ne perform.
During the last decade, Tech N9ne has built a rock-solid fanbase by touring relentlessly. By the mid-2000s, Tech N9ne was performing in excess of 200 shows a year. His professional performances and polished routines have earned the endorsement of such platinum superstar rappers as Busta Rhymes, Lil' Wayne, E-40 and Twista, among many others.
"A decade ago, we encountered so many obstacles when we first began touring," says Travis O'Guin, Strange Music's CEO and Tech's business partner in the label. "Now we're getting ready to set a new benchmark for rap music. It's been a remarkable and rewarding journey."
Tech N9ne is coming off of an incredible year. In 2011 the rapper released his album All 6's & 7's to much acclaim, debuting as Billboard's No. 1 Indie, No. 1 Rap, No. 1 Hip-Hop and R&B and No. 4 on Billboard's Top 200 album chart, overall. Tech was also featured on Lil' Wayne's The Carter IV last summer, which sold nearly 1 million units in its first week of release.
A complete list of all 90 shows will be announced next week.

What do you think of the lineup for Hostile Takeover 2012, including Machine Gun Kelly?
What do you hope to see on this tour?
Leave your thoughts in the comments section below!